Halo-Halo In Hungary: The Expats Behind Barako Kávéház
"Hungarians don't know what this is," said Esther, the teenage barista of Barako Kávéház in Budapest, when I asked her for a halo-halo. The menu of the compact cafe — about the size of a studio loft — is otherwise dominated by the top hits of third-wave coffee. There are flat whites and long blacks; doppios and ristrettos; and then, below, halo-halo. The dessert works like a kababayan calling card — a clue to the atypical immigrant story behind Hungary's only Filipino cafe.
Esther, who is Hungarian, admitted that she found halo-halo's kaleidoscope of ingredients "a little weird." Still, she composed them with the efficiency of a one-woman assembly line. Container after container emerged from the mini fridge behind the counter: one for quivering cubes of nata de coco like solidified fog; another for sunset-orange chunks of sweet potato; then the saba bananas cut into triangles the size of canine teeth. The sweetened beans, red and white, confounded her the most. "Beans should be salty," she said.
But she told me she loved the final addition: fluffy, purple peaks of homemade ube ice cream, served so generously it formed more of a heap than a scoop at the top of the tall glass. Co-owner Luleyn Andres makes the ice cream herself with dried ube that she stockpiles and covets through the year. The ingredient is flown straight from the Philippines, Luleyn said — much like she was, with her husband, Ryan, and daughter, Paige, when they moved to Hungary in 2014.
Shopping For A New Country
"We just wanted to get out of Manila," said Luleyn, when I asked her how she and her family ended up in Budapest. Before moving, both husband and wife worked in finance in Manila, where the endless fugue of traffic and crime wore into them like a groove.
"Imagine spending all your time in Manila," Luleyn said. "You're stuck in the traffic for like 5, 7 hours every day, and you go to work. It's exhausting." She and Ryan longed for "the quiet life" they remembered from their respective childhoods in Cebu and Michigan, and for a safe place to raise their daughter. In the Manila heat, they longed for snow.
The couple shopped for a new country like singles on an online dating site, armed with a checklist of requirements: they wanted to live somewhere in the EU but outside the Eurozone, with cheap rent, a low crime rate, a good educational system — and, crucially, cold winters. Hungary checked all their boxes.
Coffee In His Blood
After weighing their options, the Andres decided that opening a business was the best way to plant their roots in foreign soil. Coffee was a logical choice. It's in Ryan's blood, so to speak; his family has owned the venerable Kape Umali, once Luzon's largest supplier of coffee beans, since 1948.
Kape Umali is now run by Ryan's cousin Rondel Olarte, who's pushing the company into broader, more modern pursuits: training courses for baristas; workshops for enthusiasts and hip cafes around Baguio City and Metro Manila. Since 2001, Ryan and Rondel have co-owned seven acres of organically farmed liberica (known in the Philippines as barako) and arabica plots around Baguio and Batangas, which now supply 100 percent of the coffee served at Barako Kávéház.
Despite his family connections, Ryan never considered working in the coffee industry until 2013, when he was hit hard by an existential crisis fueled by his company's role in the financial collapse. "The long and short of it is, I've always worked in the corporate industry, and one day I just got tired of it," Ryan said. "I was like, dude, what the [expletive] am I gonna do with my life?" Rondel reminded him of the plots and suggested distributing barako to new markets in Europe. "And that got me thinking," said Ryan. "It's not such a bad idea."
Hungarian Mamsirs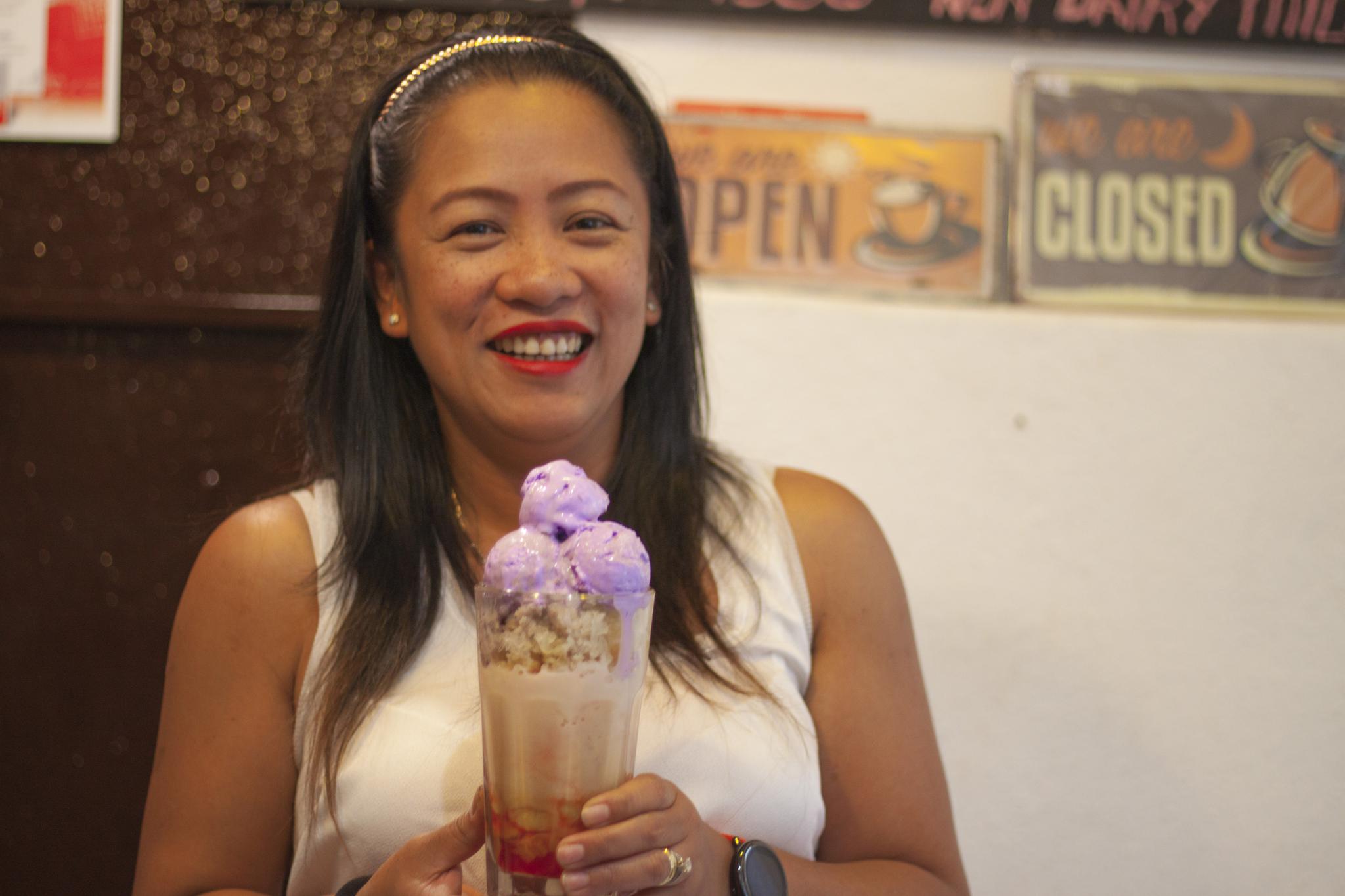 Though Ryan insisted that he "didn't give a crap about coffee" until 2013, he can wax poetic about the nuances of Filipino cafe barako. It's intensely sweet, like tree-ripened fruit, he said, with a bouquet of aromas that deepens as the coffee cools. Ryan compared the fragrance to jackfruit; others insist on aniseed. Some detect grace notes of chocolate, warm spices like cardamom or even fresh blackberries. Like most complex flavors, one's perception of barako seems based more on memory than chemistry.
Cafe liberica grows in countries other than the Philippines, but Filipino barako is the "carabao mango" of coffees, Ryan told me. "You've got Brazilian mangoes, you've got African mangoes, you've got whatever mangoes," he said. "And the Philippine carabao is the queen of mangoes in the entire world. It's the same story with the liberica."
That fruity, floral flavor goes over well with Hungarians, who "have a serious sweet tooth," said Ryan. He estimates that 95 percent of Barako customers are locals, though the shop is located in a tourist-friendly area near the stately Lukacs Bathhouse. Occasionally, a Filipino tourist wanders by, hair wet from a long soak in the mineral-rich thermal water, and stares bemused at the one Tagalog word on the sign. "And then they see me sitting outside and go 'Oh, a Filipino!'" recounted Luleyn.
Hungarians also make up the bulk of their staff. Ryan and Luleyn have taught their employees to call them "Mamsir," the Filipinized gender-neutral honorific, perhaps as an inside joke. It can be jarring to hear a Hungarian teenager call out the portmanteau, a product of colonialism and courtesy culture, with complete seriousness — "Mamsir, are we out of filters? Mamsir, where is the AeroPress?"

'Give Them Everything
The Andreses' influence has already begun to spread beyond the studio-sized confines of the Kávéház. Their Kape Umali-branded barako beans supply hip shops around Budapest, including Pagony, a children's bookstore chain with the design sensibilities of a Stockholm listening lounge. They are also in the process of opening a second Barako Kávéház near the prestigious Semmelweiss University.
"Budapest is a pretty tight city," said Ryan, when I asked if he was satisfied with his choice of escape route. He called Hungary "a country coming of out its shell," where Iron Curtain homogeneity is slowly giving way to ethnic diversity, a vibrant creative scene and a willingness to change. "And you know," he said, "it's nice to be a part of that."

One day, Hungary may become as heterogeneous as Barako's halo-halo. Luleyn introduced the dessert to the menu in June 2018, a summer alternative to the ube and mango cheesecakes she makes throughout the year. Her halo-halo is still the only one in Budapest, and she's holding out hope that it might go viral in the city.
This summer, she upgraded the serving vessel from a tumbler to a pint glass and tripled the amount of ice cream on top. "Why not give the customers all your best?" she explained. "Give them everything! It makes them happy."
She was talking about her decision to serve three scoops of ube ice cream instead of one, but "give them everything" could be the driving philosophy behind Barako Kávéház. As Ryan put it, "Our mission is just to provide a really unforgettable customer experience. We've been really firm on that, and it shows."
Barako Kávéház is located at Török u. 3, Budapest 1023, Hungary.

+36 30 283 7065

https://www.facebook.com/BARAKOKAVEHAZ/

A version of this article appeared in Positively Filipino Magazine and The Manila Express.
The Global Carinderia is an independently-funded project. If you value this platform, please consider donating at https://www.gofundme.com/f/global-carinderia.
Add a comment