Whale hunt spring rolls from Utqiagvik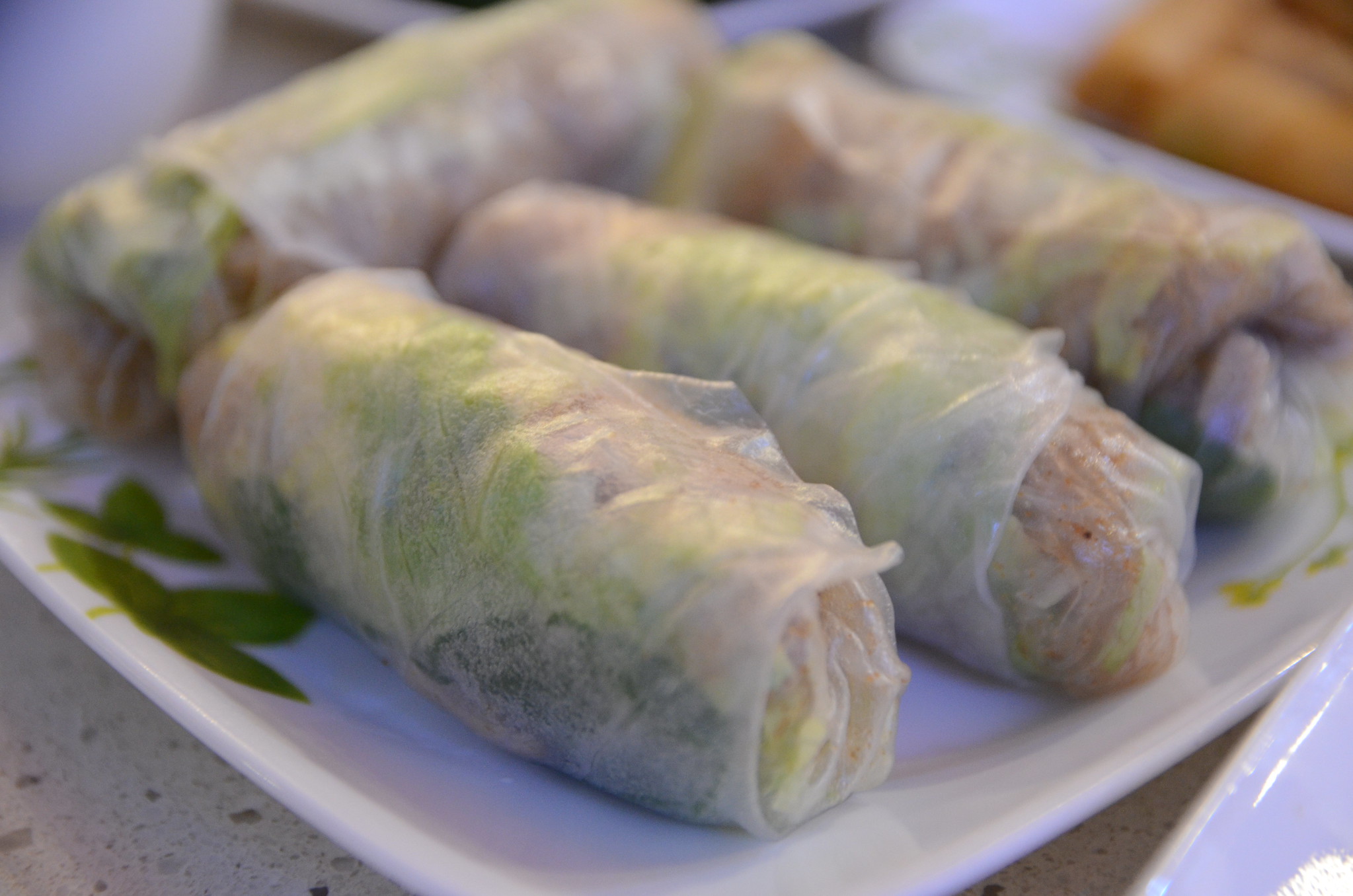 This recipe was contributed by Amy Tulayan Felder, the owner of The 57 in Utqiagvik, Alaska: the northernmost Filipino restaurant in the United States. The majority of Utqiagvik's population, including Amy's husband Leonard, are Iñupiat, and some of the community's most important festivals are centered around the traditional whale hunt. Amy invented this recipe for a whale cooking contest that was part of one such festival — and won first place. She made her spring rolls with muktuk, or whale skin and blubber, a prized delicacy that is illegal to sell and difficult to find outside of Inuit villages, with carrots and green onions dressed in a Japanese-inspired sauce. I've adapted her recipe for pork belly and added a few extra herbs and vegetables that are hard to find in Utqiagvik. — Jennifer Fergesen
Ingredients:
1/2 lb pork belly (or muktuk, if you can legally acquire it)
1 tsp salt
1 cup sake
1 cup mirin
1 cup soy sauce
1/2 cup brown sugar
1/4 cup sesame oil
1 cup carrots cut into matchsticks
1 cup cucumbers cut into matchsticks (optional)
1 cup mung bean sprouts (optional)
1 12-ounce package 8 1/2-inch rice paper wrappers
1 bunch green onions
1 bunch fresh cilantro (optional)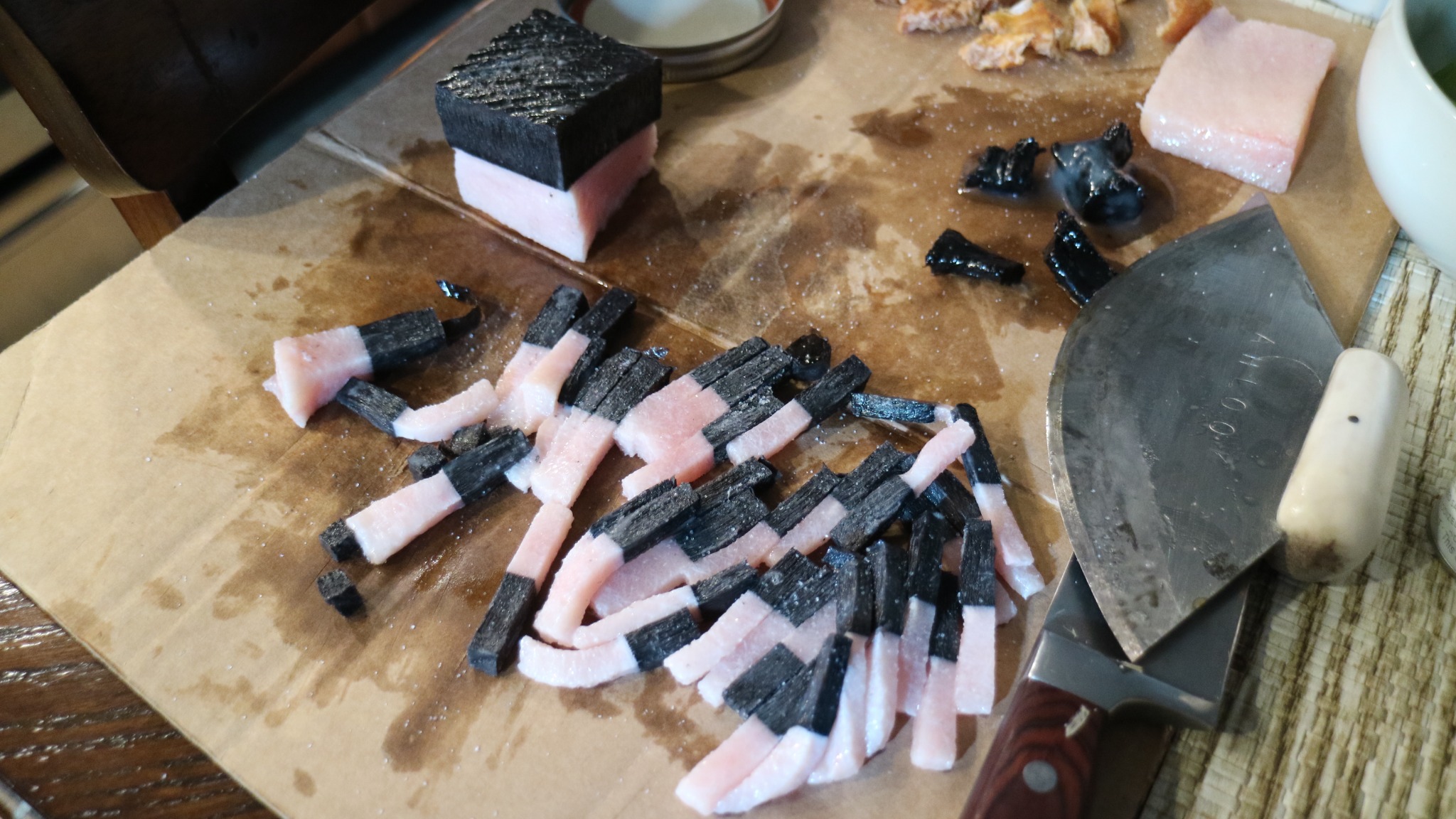 Steps:
Place pork belly (or muktuk) in a pot with salt and add enough water to cover. Bring to a boil, then reduce heat to low and simmer for 30 minutes. Turn off the heat and leave the pot covered for 30 minutes, then remove meat and allow to cool. Cut into very thin slices.
Combine sake, mirin, soy sauce, sugar and sesame oil in a bowl and stir until sugar mostly dissolves. Toss carrots, mung bean sprouts and cucumbers, if using, in about 1/4 cup of the sauce.
Fill a pie plate or another plate large enough to fit a rice paper sheet with warm water. Float a piece of paper in the water and quickly remove it to another plate when it begins to rehydrate (about 5-10 seconds, depending on the thickness of the paper). Lay a slice of pork belly at the bottom third of the rice paper. Top with dressed vegetables, then add green onions and cilantro, if using. Roll the bottom edge of the rice paper over the filling, then fold in the two perpendicular sides. Continue rolling upward until the roll is complete. Continue until the rice paper rolls are used up. (You can eat the remaining ingredients with rice or noodles.)
Serve the rolls immediately with the remaining sauce for dip.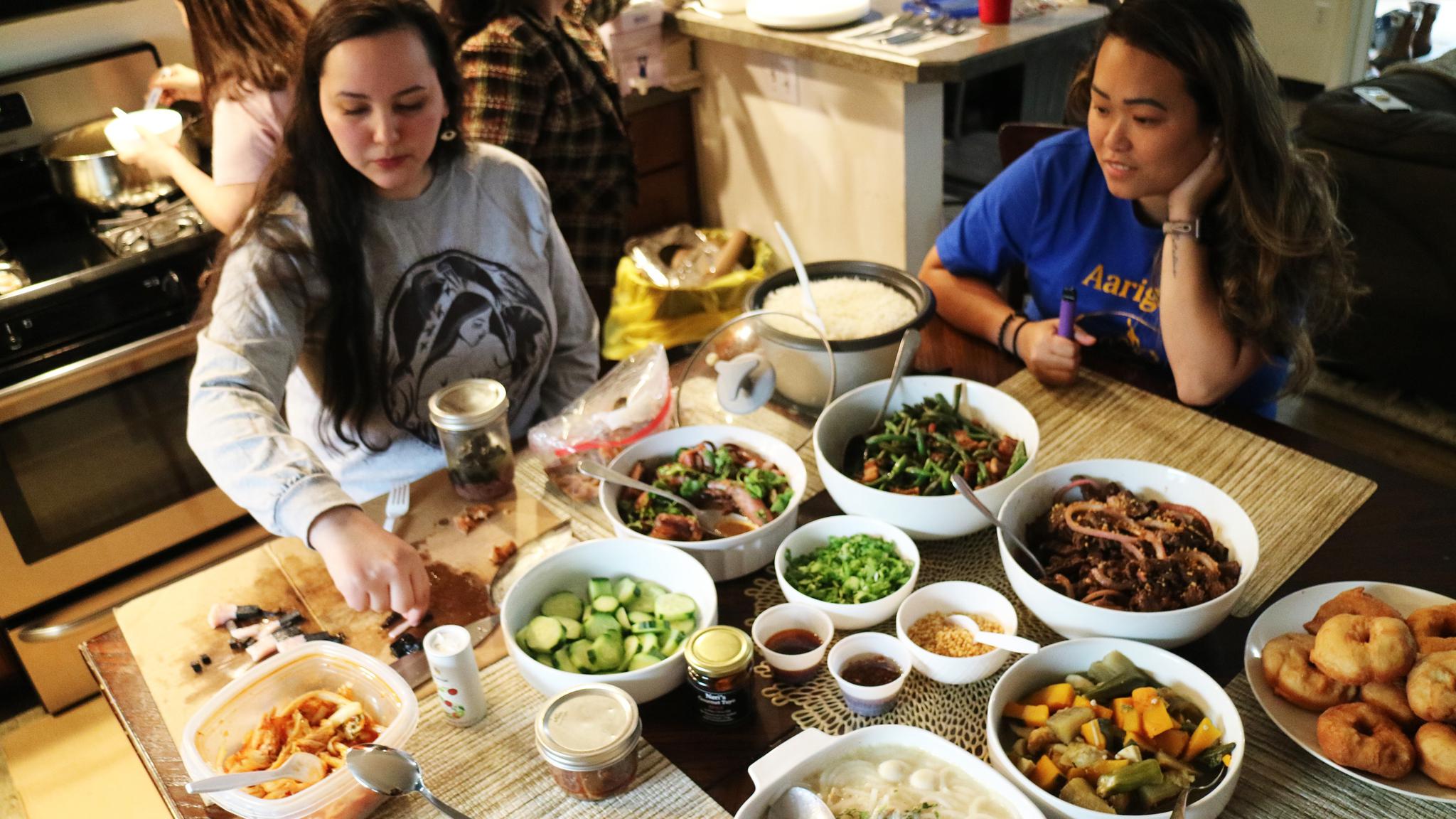 Amy Tulayan Felder's Iñupiaq stepdaughter Jillian Moreno, left, eats muktuk with her Filipino sister-in-law Jinky Moreno Caoile alongside an array of Filipino, Thai and Iñupiat dishes. (Photo by Jennifer Fergesen)
A version of this article appeared in Positively Filipino magazine.
Add a comment