Sisig in Sitka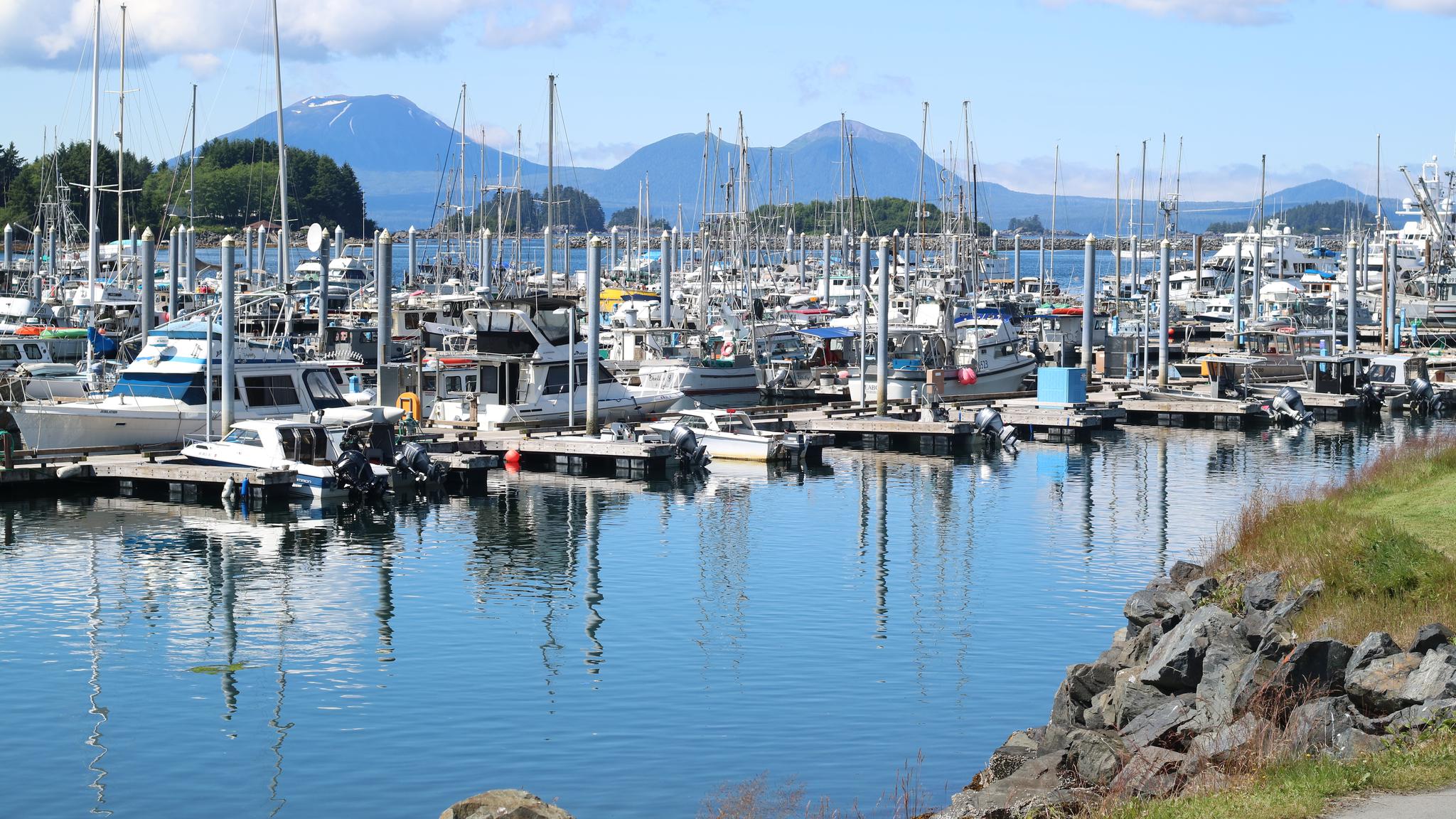 It may take a moment to realize that Sizzling Chow Cuisine in Sitka, Alaska is a Filipino restaurant. "Filipino Food" is emblazoned on one of the tinted windows, but you might miss it among all the other painted promises, like "American Food," "Bubble Tea" and "Cafe Bar Espresso." It's possible to visit Sitka, a city of about 9,000 on Baranof Island in the Alexander Archipelago, and never make the connection between the restaurant and the islands on the other side of the Pacific.
Walk inside the red-roofed building on Sitka's main drag and you could be in any diner in America. Families and fishermen in brown Xtratuf boots tuck into plates of sesame chicken, burgers, or fish and chips at the high red booths; a line forms at the counter for takeout coffee and bubble tea. There's a larger-than-life plaster swordfish on the wall and local news on the TV. If you skip the Filipino pages in the diner-sized menu, you'll have to look up to get a sense of where your hosts are from. A ceiling beam, painted red, bears the message "Welcome — 'Tuloy po kayo.'"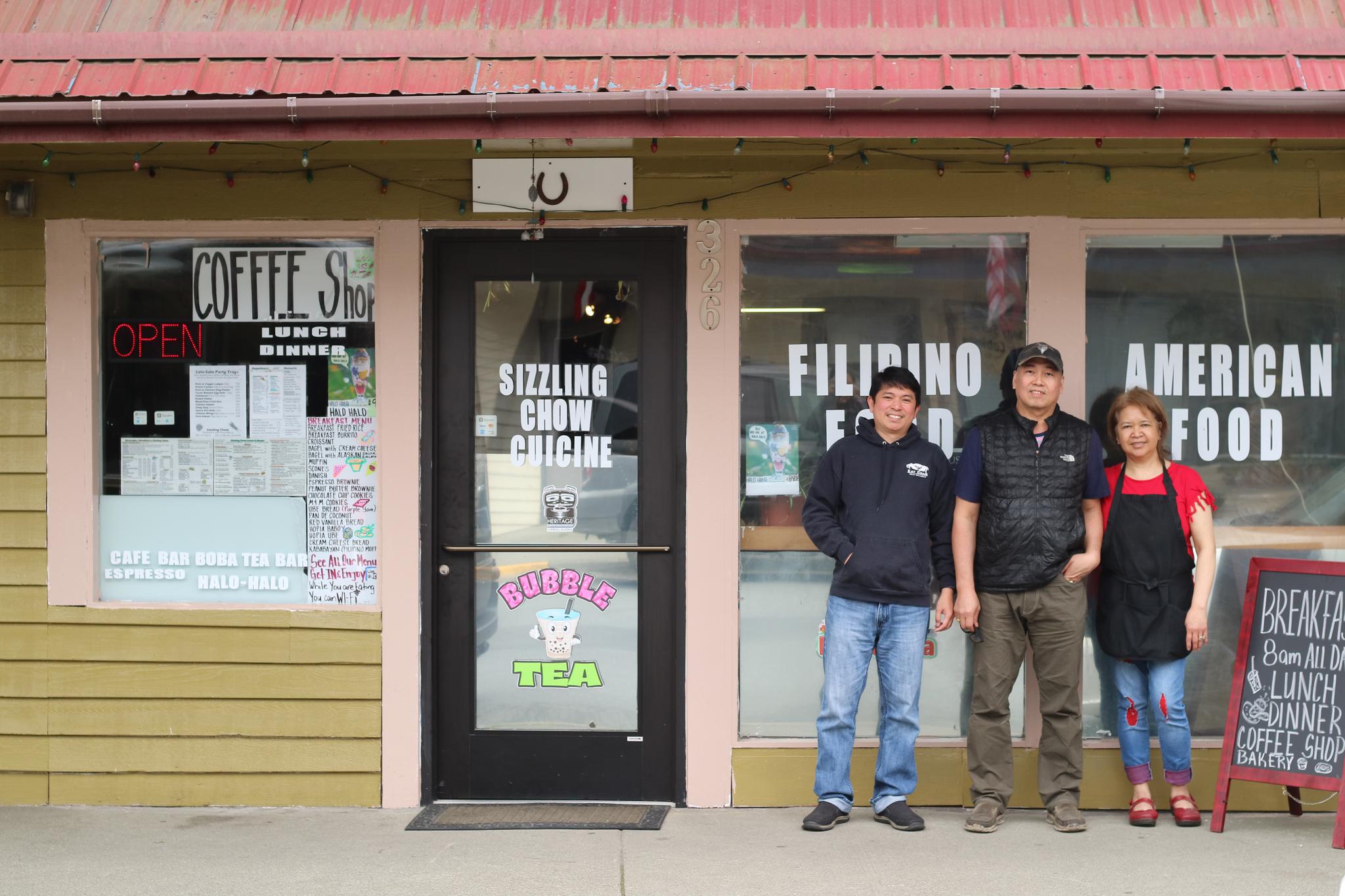 The goal is to welcome everyone, says co-owner Marivic Carbonel: tourists, locals, seasonal workers and the guests and crews of the Alaskan cruises that descended upon the town at least weekly in pre-pandemic times. American visitors tend to stick with the American and Chinese-American options, and the mostly Filipino ship crews go straight for the Filipino menu — but so do many locals. "White people, Native people, they all like the food," Marivic says.
This is nothing unusual in southeast Alaska, where Filipinos have had a strong presence for more than a century. The seven-year-old restaurant is the latest in a long line of carinderias that have plied Sitka's main road throughout the long history of Filipinos in this town.
Sitka is on Tlingit land. For more than 10,000 years, the Tlingit — whose name translates to "people of the tides" — have fished for salmon, halibut and herring in the teeming waters that surround Baranof Island, hunted black tail deer and seal, and gathered berries and medicinal plants in the lush rainforest that fills the interior. Even after centuries of genocide and suppression at the hands of Russian and American settlers, the town remains a stronghold for Tlingit culture.
The town has also long been home to Filipinos. Beginning in the late 19th century, when both Alaska and the Philippines were outposts in a rapidly expanding American empire, Filipino men immigrated to Sitka by the thousands to work in the salmon canneries. They called themselves Alaskeros and were paid less than white men would be for the same work, but more than they could expect to make if they stayed home. In the canneries, they shaped the staple that had sustained the Tlingit for millennia into a boneless, skinless, shelf-stable commodity.
These men left a lasting imprint on the culture, landscape and gene pool of southeast Alaska — many married and had children with Tlingit women, who also often took cannery jobs. One of the most prominent Tlingit-Filipino couples of this generation were Mary and Nick Pelayo, who ran a popular restaurant in downtown Sitka in the 1950s and '60s that introduced the community to adobo and pancit.
Mary self-published a cookbook that included a recipe for seal adobo that has no soy sauce — this was before the days of easy access to Asian ingredients. But the recipe that people who remember her restaurant described to me involved soy sauce, vinegar, pickling spice (a blend of peppercorns, coriander seeds, allspice and other spices, often used for pickled herring) and plenty of sugar. This is how Chuck Miller, cultural liaison of the Sitka Tribe, learned to make adobo from his mother, who learned it directly from Nick Pelayo. "You Filipinos might've invented chicken adobo, but us Tlingit people? We perfected it," he said, quoting a Tlingit elder he knew as a child.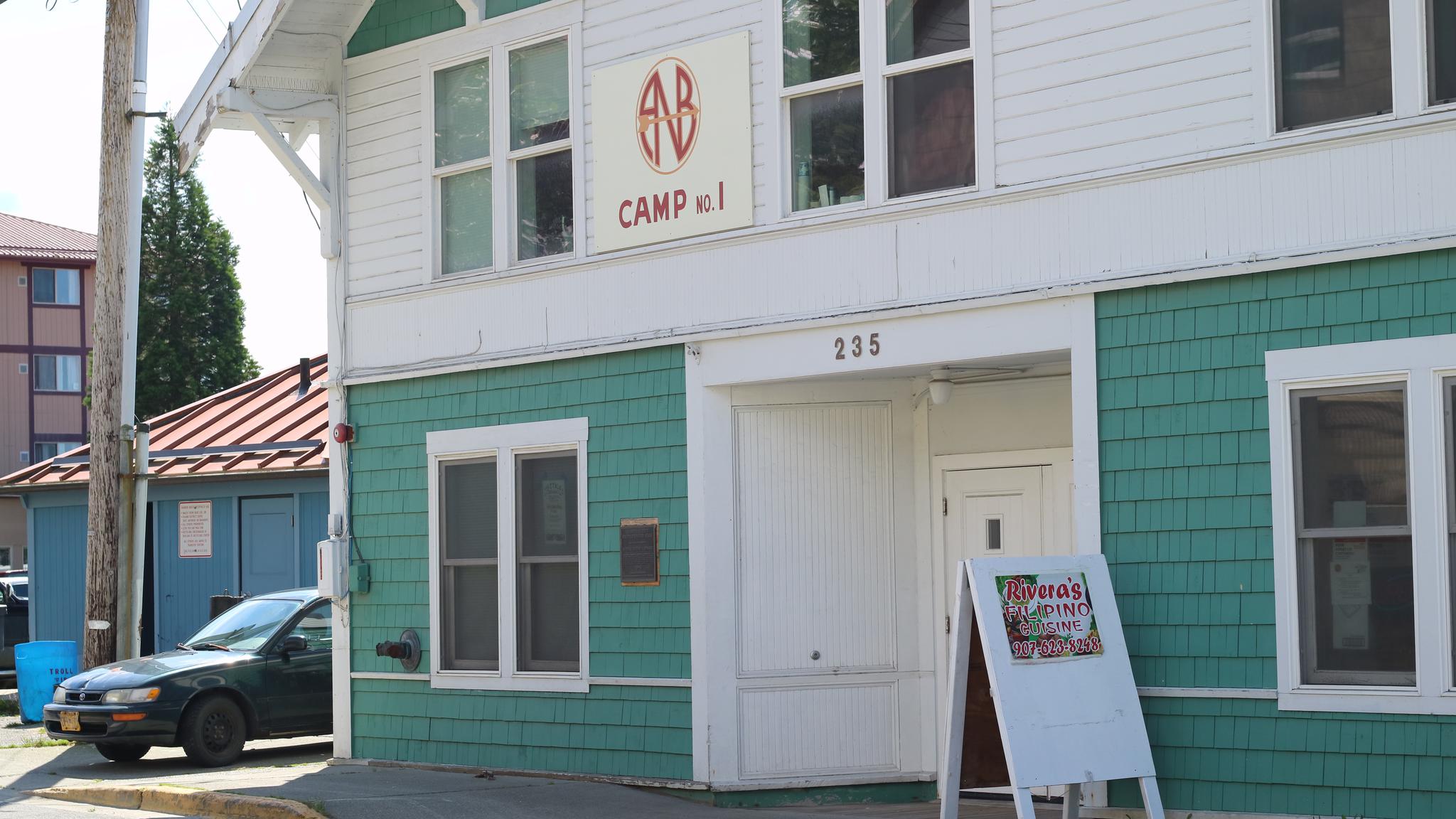 The first generation of Tlingit-Filipino people called themselves mestizos, and many now hold top roles in tribal leadership and in the Alaska Native Brotherhood, a statewide civil rights organization that formed in Sitka in 1912. Though people of Tlingit and Filipino descent are less likely to identify as mestizo these days, Filipino food is still popular on the Tlingit table. Members told me that chicken adobo is an indispensable dish for ANB dinners, and this year a Filipino takeout restaurant called Rivera's Sarap Sarap opened inside 107-year-old ANB Hall on Sitka's waterfront. (The owner, Mario Rivera, was out fishing while I was in town.)
Sitka's Filipino population has ballooned in the past few decades as economic and political volatility in the Philippines fueled a global exodus. The population of the town is currently about 5% Filipino, almost five times the national percentage. Some of the recent Filipino immigrants came to work in Sitka's still-thriving fisheries and processing plants; others joined cousins who had settled there in earlier waves of immigration. Over the years, several Filipino restaurants have blossomed to serve them: Diaz Café, Bamboo Restaurant and others, all since closed. There are now so many Filipinos in Sitka that the mainstream supermarkets sell bagoong, bibingka mix and fresh bittermelon leaves — not in an "ethnic" aisle, but mixed in with the rest.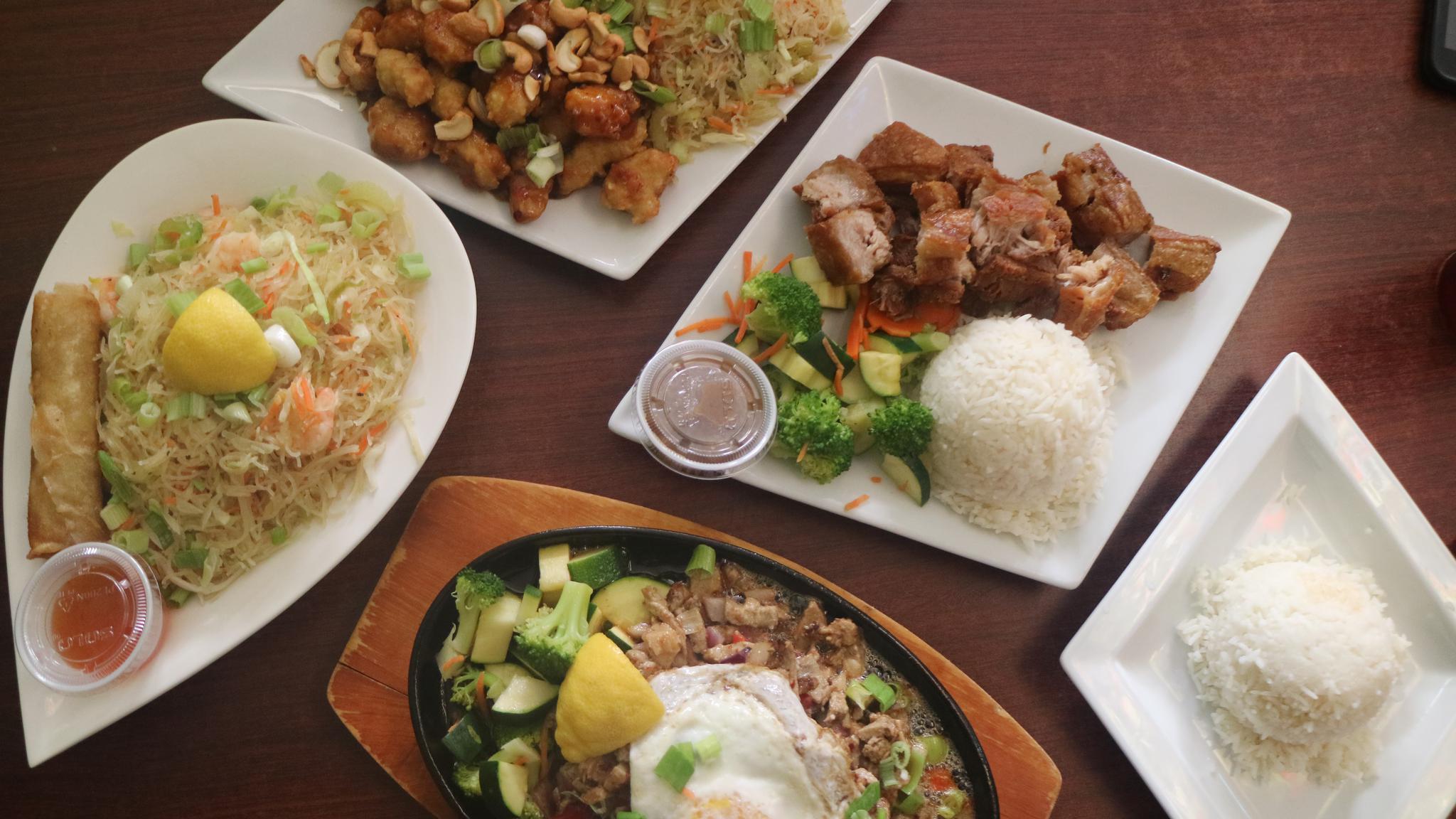 Marivic Carbonel came to Sitka in 1993 on a sponsorship from her sister, who had married an Alaskan in the Philippines and moved back with him. She was then 29 years old and got her first American job at the Alaska Commercial Company supermarket that now serves pancit in the hot case. At the time, she was one of the only Filipino employees and was shy about her English skills. "My boss said, just talk," she said. "They won't laugh at you."
Over the years, the family was able to sponsor several other relatives to come to Sitka, including Marivic's husband Arsenio, with whom she has two children. Arsenio later ran the canteen at the Southeast Alaska Regional Health Consortium hospital, and Marivic came to join him. The pancit and adobo they served at the canteen was popular enough that they decided to open a food truck in 2013. The following year, the restaurant space opened up, and they took it. Their business is currently the longest-running Filipino restaurant in town.
Chuck Miller of the Sitka Tribe told me that Sizzling Chow has become a hub for everyone in the Sitka community, not just Filipinos. It's especially popular around the 4th of July, when the town thrums with activity from the sea to the hills. While the Coast Guard does demonstrations off shore, the back lot of the restaurant becomes a tiangge (bazaar) selling barbecue, maruya (banana fritters) and all the best Manila street food has to offer. "You should see how many people wait in line for that food," Chuck said.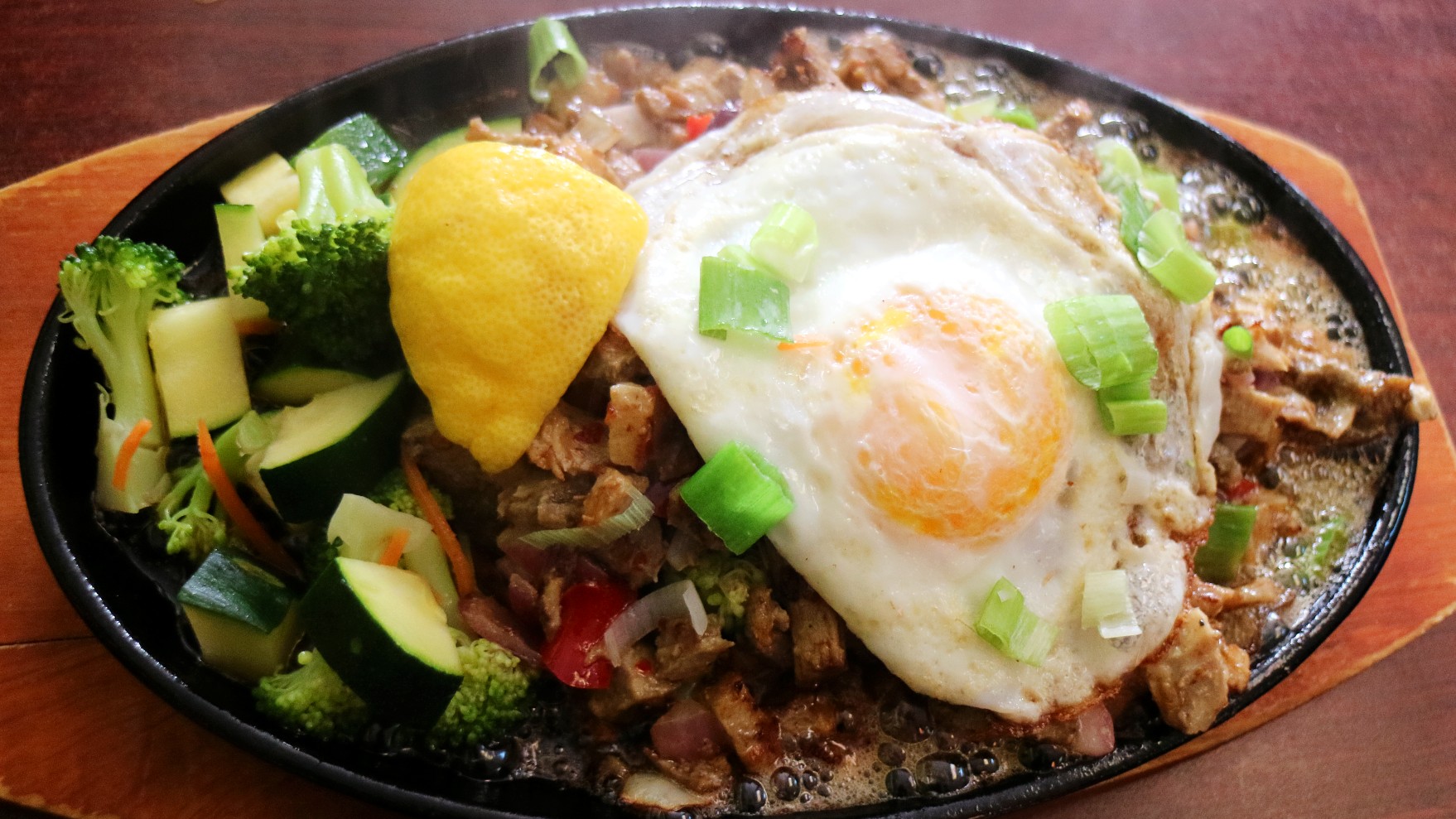 The sisig, served on a sizzling plate, is the most popular dish, and the chicharon — a speciality of Marivic's home province, Tarlac — is a sleeper hit. "Of course, there's lots of fat in there, and people are afraid to eat it," she said. "First they ask, 'So how much fat is in it?' Then they're like, 'Oh, we'll give it a try anyway,' and now it's very popular."
I tried both specialities on a recent visit to Sitka. After days spent climbing the cool, pine-covered hills that rise above the town and dipping into the icy water that stretches below it, it seemed permissible to have a meal composed almost entirely of fried pork. The sisig came to the table veiled in steam like a bride on its sizzling-plate palanquin. The sizzle, loud as a small firecracker, turned heads as it crossed the dining room.
Next to the sisig, the chicharon looked underdressed — just a rubble of leather-brown pork belly cubes. Yet it was one of the best things I ate in Sitka. Do you remember the scene in Amélie in which she relishes the crack of burnt sugar on crème brûlée? If I was Amélie, my crème brûlée would be that chicharon. First, the blistered skin shatters under the teeth — louder than that sugar, and more substantial. Then comes the tug of collagen and the yielding fat where porcine flavor is stored like a memory. There is meat there, too, fibrillar and tender, but chicharon is foremost a celebration of taba and its pernicious pleasures.
Here in Alaska, Marivic told me, there was no need to be "tipid-tipid" — frugal — with any of the pleasures of life. "There's like no limit, because if you work, you have money to buy this and that," she said, like the Alaskeros who came before her. "This is a good place to be."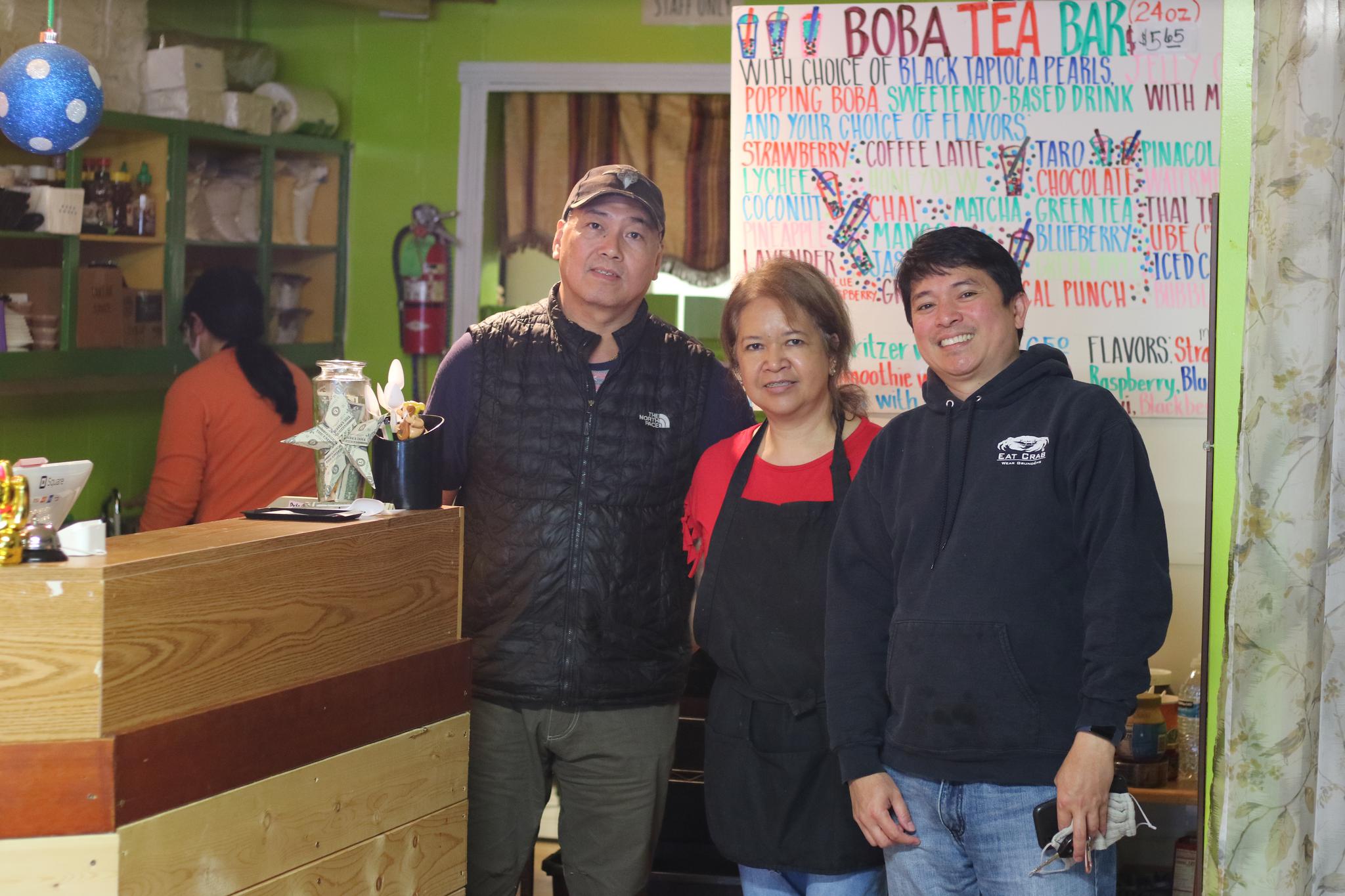 A version of this article appeared in Positively Filipino magazine. 
The Global Carinderia is an independently funded project. If you value this work, please consider making a donation.