Seitan Bistek from Vienna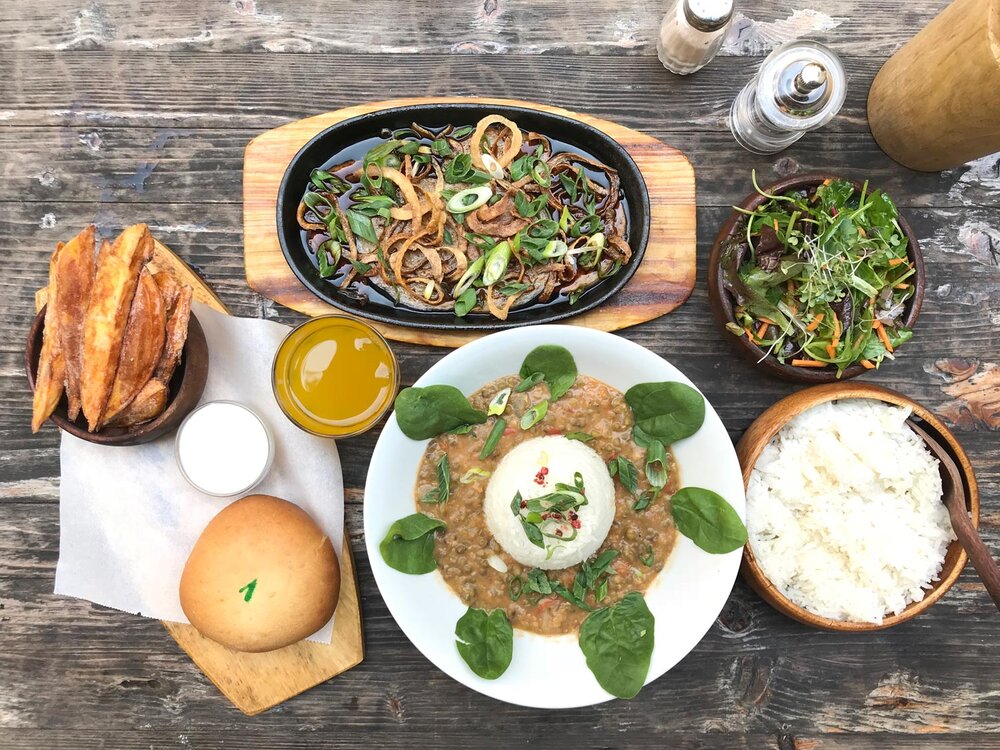 At Hotel am Brillantengrund in Vienna, Chef Frezida Mangalino makes her seitan — a wheat-based meat substitute — in-house. This labor-intensive process involves kneading and washing dough, then simmering it with aromatics for 24 hours. If you don't have that kind of time on your hands, you can make a quick vegan bistek using store-bought seitan. Look for unflavored blocks of seitan (sometimes called "vital wheat gluten") at your local Asian grocery or health food store.
Ingredients
1/4 cup soy sauce
juice of 1 lemon
5 cloves garlic, minced
1/4 teaspoon freshly-ground black pepper
1 lb seitan, thinly sliced
1/4 cup cornstarch, or as needed
1/4 cup oil, or as needed
1/2 onion, thinly sliced
1/2 cup water
salt to taste
optional: 2 green onions, sliced
Directions
In a large bowl, combine soy sauce, lemon juice, garlic, and pepper. Add seitan and toss to coat. Cover and refrigerate at least 1 hour.
Remove seitan from marinade, squeeze out excess liquid and pat dry. Dredge each slice in cornstarch and set aside.
Heat 2 tablespoons oil in a large pan or flat-bottomed wok. Add onions and cook until translucent. Remove to a plate.
Add remaining oil to the pan. Heat to about 350°F. Working in batches, fry the seitan in the oil until brown on each side. Remove to a plate.
Wipe out pan, then place the seitan and onions back in the pan. Add reserved marinade and water. Bring to a simmer, then reduce heat to low and cook uncovered for 30 minutes. Liquid should reduce by up to half.
Season to taste with salt, pepper and lemon juice. Place seitan and onions in a serving dish and pour sauce over. Garnish with green onions, if desired. Serve with hot steamed rice.
This article also appeared in Positively Filipino Magazine.
Add a comment