Pinoy Taste Reykjavík: The Underground Filipino Food of Iceland
There are about 1,500 Filipinos living in Iceland, and underground chef Raquel Landayan thinks she's Facebook friends with most of them. Every day, the 1,100 users who have "friended" her Pinoy Taste Reykjavík account see glistening, soft-filtered photos of the dishes she and her husband, Arie Bob Riesenbeck, cook in their Breiðholt home. There might be kutsinta stacked like bronze coins, hot pandesal flecked green with malunggay, or vacuum-packed tocino red and ready for frying.
This is no Instagram-style lifestyle porn, at least not for followers who live in Reykjavík. Each photo caption includes a price: 1500 Icelandic kronur (about $12 USD) for a half-kilo of the tocino, 1000 for a tray of puto, 1200 for halo-halo mix ready to be topped with ice — one ingredient in no short supply in this country. The orders roll in, via comments and direct messages, within minutes of each post.
Across the global diaspora, it's chefs like Riesenbeck who are fueling the international Filipino food scene, a homegrown movement that goes deeper than fads for lumpia and ube-flavored everything. These "underground" chefs operate outside the purview of traditional restaurants; they reach customers through social media instead of paying for advertising, run pop-up meals in borrowed space instead of renting their own. By bypassing the high-pressure, low-profit restaurant life, chefs can experiment with projects that might otherwise fail to attract investors — like, say, selling Filipino food in a country with only 1,500 Filipino people.
Perhaps because Filipino food still lacks the international prominence of other Asian cuisines, underground projects are especially popular with the chefs of the diaspora. The scale of these projects varies widely. On one end, there's Chef Yana Gilbuena's globetrotting Salo supper club, a popup series that started with a 50-state whirlwind tour in 2013 and made its first foray into Australia this year. On the other, there are cottage entrepreneurs like Landayan who make their kitchens into hidden carinderias, tiptoeing around food business regulations to deliver authentic panlasang pinoy to compatriots and curious eaters alike.
"We Cater To Filipinos"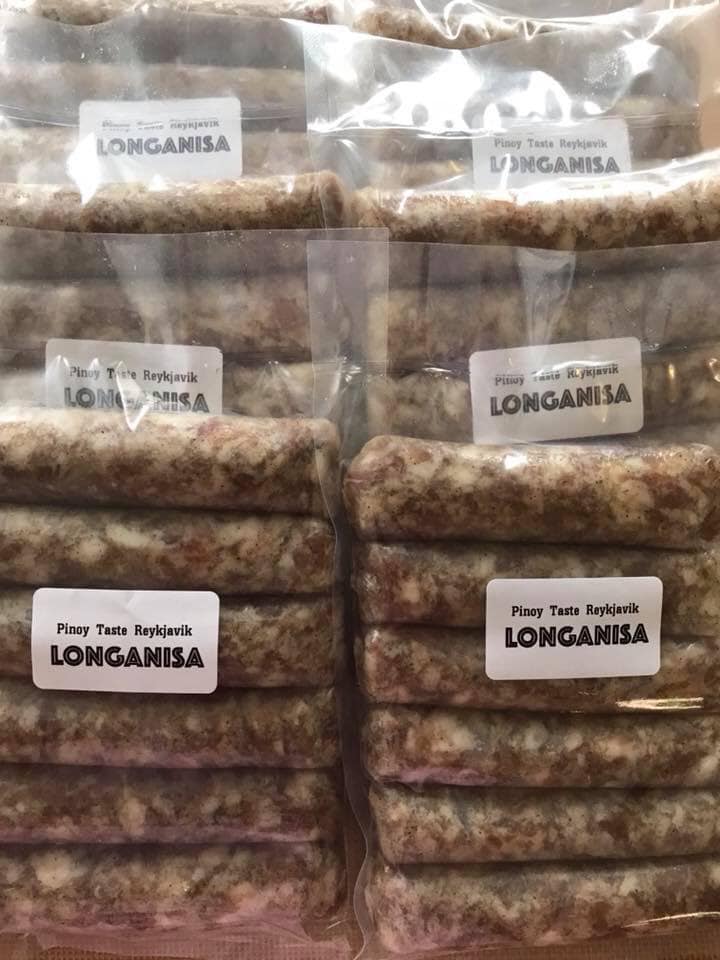 In Iceland, Filipino food is underground by default. Though Filipinos make up the largest Asian population in Iceland, there are no openly Filipino restaurants in Reykjavík. A few restaurants secrete Filipino dishes on otherwise broadly European menus; there's adobo hidden under the fish and chips at Harry's Seafood, suspiciously lumpia-like spring rolls at the Filipino-founded chain Ning's Chinese.
Iceland also has its own version of Gilbuena's Salo series. Another underground chef, the psychiatric nurse and writer Marvi Gil, runs a Boodle Fight popup with an emphasis on culinary diplomacy at venues like W.O.M.E.N. in Iceland. For Filipinos who regularly crave the flavors of home, though — whether they need enough pansit to feed 200 wedding guests or simply long for longganisa — Pinoy Taste is their only option short of a plane ticket.
"We cater to Filipinos," Landayan says. "They all need to have Filipino food, and they don't all know how to make it." Landayan learned to make the full repertoire of kapampangan cuisine as a girl in Lubao, Pampanga. Notoriously picky, she refused to eat anything other than her mother's cooking — and her own, once she could replicate her mother's flavors. She dreamed of growing up to be a chef, but her family teased her; "How do you be a cook if you don't eat?" they would ask.
Cooking came in handy when Landayan's mother followed her father to Reykjavík, where one of her cousins had married an Icelander. One by one, her siblings decamped to Reykjavík, finding jobs in the blue-collar niches left open by Iceland's growing economy: painting houses; washing clothes. Landayan joined them in 2006, when she was 21 years old.
"No Rich And No Poor"
After moving, Landayan was too taken with Icelandic society to complain about their food. "The first thing I noticed was people are very good," she says. "It's totally different from the Philippines. They are equal — no rich and no poor. Everyone is the same."
Iceland's drive to protect that historic homogeneity has led to some assimilationist immigration requirements. An old policy forced newcomers to adopt the Icelandic surname system, with its -sson and -dottir suffixes, to qualify for citizenship. That policy was revoked before Landayan became a citizen, however, and she is optimistic about Icelanders' appetite for change. "They are very accommodating," she says. "They welcome everyone."
Landayan also found herself welcomed by the Filipino-Icelandic community. The Filipino owner of Ning's Chinese gave her a position at Filippseyjar, his now-defunct Filipino grocery store, and later moved her to Ning's prep kitchen. There, she rolled lumpia and sushi and met Riesenbeck, a man of Visayan and Dutch descent who would become her husband.
A Fateful Kababayan Encounter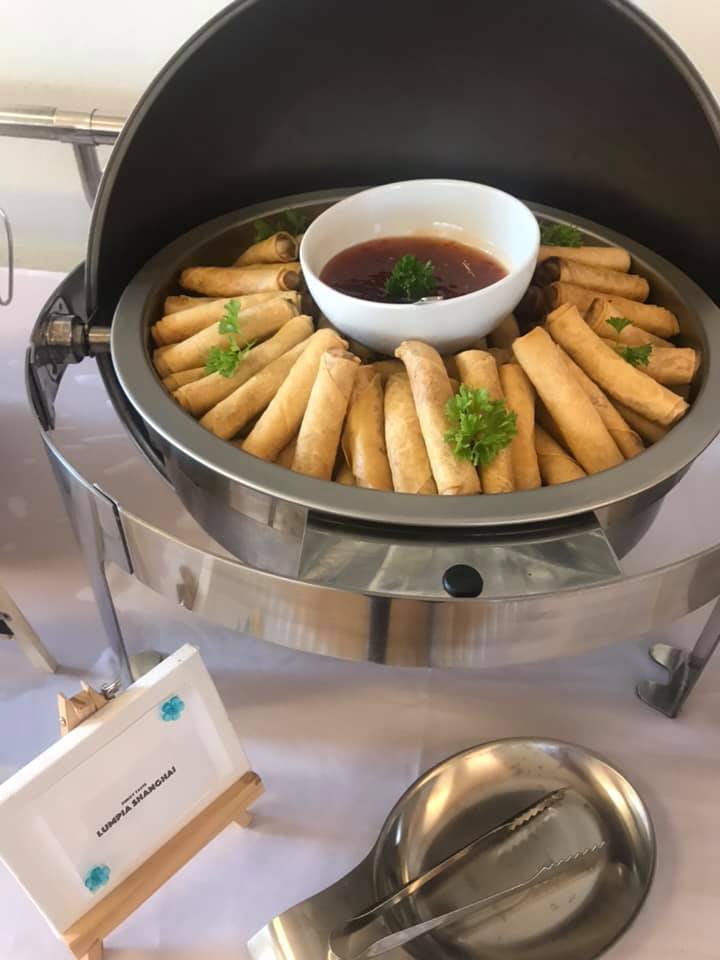 Landayan started building the prototype for Pinoy Taste Reykjavík in Stavanger, Norway, soon after moving there with Riesenbeck in 2014. She was then pregnant with their first child, unexpectedly jobless after a dip in the Norwegian economy — and, she says, "so bored."
A self-described workaholic, Landayan spent her unemployed days making heaping batches of Pampanga-style tocino and longganisa, following her mother's recipes as closely as she could manage. With no connections in the city, though, she had trouble finding anyone to buy her products. Her big break came with the kind of kababayan encounter that will be familiar to many Filipinos living in thinly-spread reaches of the diaspora. "I saw a Filipina once, and she asked me, 'You're from the Philippines?'" says Landayan. "She invited me to her house, and then I just started there."
Cornering The Filipino-Icelandic Market
Landayan's tocino, longganisa and other offerings proved so popular with the Filipino community in Stavanger that she decided to continue the project when she and her family returned to Iceland in 2017. Here, she was in even higher demand; Stavanger has a Michelin-starred Filipino sushi chef and its own Salo-style supperclub, but in Reykjavík Landayan could corner the market.
Landayan and her husband expanded the business into catering, picking up professional-grade accessories like chafing dishes and table skirts during visits to the US. The investment paid off; they've been hired for events all over the city, from a first birthday party with pyramids of colored puto to the wedding of an Icelandic couple who fell for Filipino food at friends' homes. Sometimes, Landayan and Riesenbeck can earn more in a month from their side hustle than from their full-time restaurant jobs. Riesenbeck, who worked in catering for seven years, believes that Pinoy Taste offers a higher level of presentation than even the biggest catering companies in Iceland. "We are the first ones really putting in effort," he says.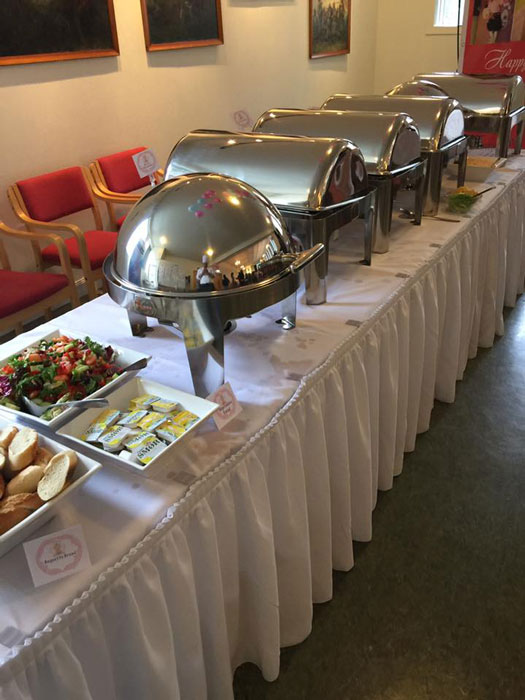 "They're Ready To Taste It"
Pinoy Taste Reykjavík's growth fits into the broader success story of Asian food in Iceland. In Reykjavík alone, there are at least 17 Thai restaurants, 14 Chinese restaurants and 7 Japanese restaurants, all drawing crowds of both tourists and local customers. Landayan thinks it's time for a Filipino restaurant to join the fray. "We can make something similar to Thai or Japanese food, and then add a twist of Filipino taste," she says. "I think they're ready to taste it."
Landayan is already experimenting with these Filipino twists at her day job, rolling sushi at Reykjavík's Hilton Hotel. Her inventions include a "cabalen maki roll" that includes her homemade tocino, the smoke and sweetness cut with cucumber and tomato. The coworkers who get to taste her creations always ask her why she hasn't started a restaurant yet.
For now, Landayan and Riesenbeck are content running Pinoy Taste Reykjavík out of their home. They value the time they can spend with their two young children, and their side business offers not only extra income but fulfillment. "A lot of people are commenting things like, 'Oh, thank you so much for this, because we feel that we're home,'" Landayan says. "That's why I'm happy to do it."
https://www.facebook.com/pinoy.taste.rvk
This article also appeared in edited form in Positively Filipino Magazine.
The Global Carinderia is an independently-funded project. If you value this platform, please consider donating at https://www.gofundme.com/f/global-carinderia.
Add a comment