Little Manila in Tbilisi, Georgia: An OFW Escape (Plaridel Award Winner)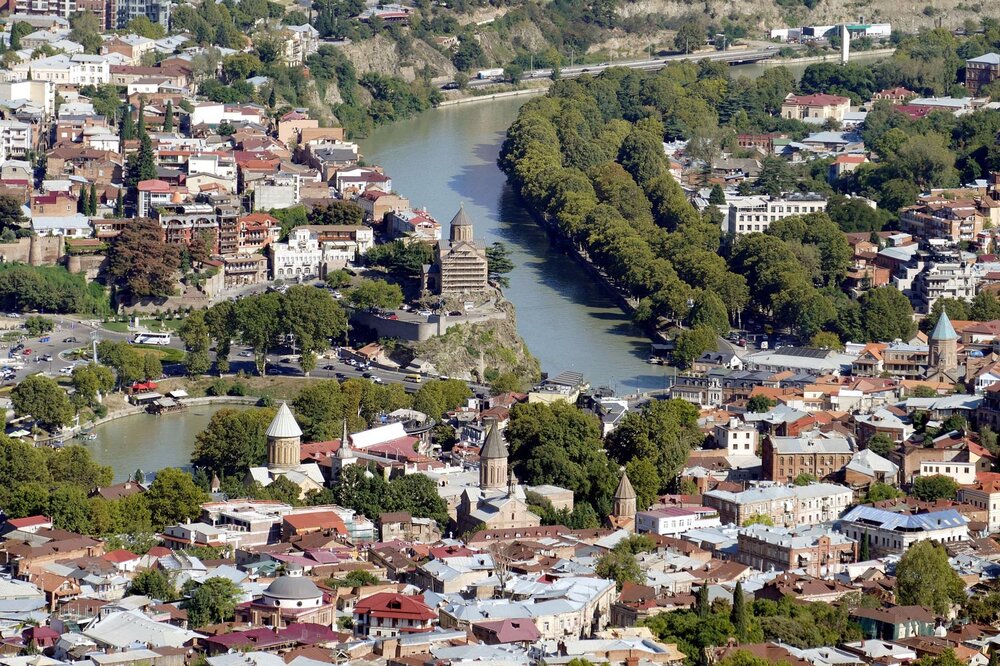 Some of the most memorable meals of my life took place in Georgia, a former Soviet republic in the Caucasus that straddles the boundary between Europe and Asia. The Russian author Alexander Pushkin, one of the many visitors who tumbled into love with the place, wrote that "every Georgian dish is a poem." I ate enough in two weeks to fill an anthology.
There was the dinner at a mountain lodge so far north I could nearly see the Russian border from the window, where my great aunt and I unwittingly joined a supra: the ritualized yet joyous feast that forms the lynchpin of Georgian culture. Sitting alongside a multigenerational family like poor relations, we listened to the tamada (toastmaster) compose extemporaneous odes to the mountains, to long life, to love — anything that could prompt the revelers to knock back glass after fiery glass of chacha (grape brandy).
If there was anything more impressive than the family's stomach for liquor, it was their appetite for khinkali, doughy purses of meat and broth like heftier cousins of Chinese xiao long bao. The dumplings emerged from the kitchen in mounds towering enough to threaten avalanche; at the table, they disappeared almost as quickly as the steam that rose off them.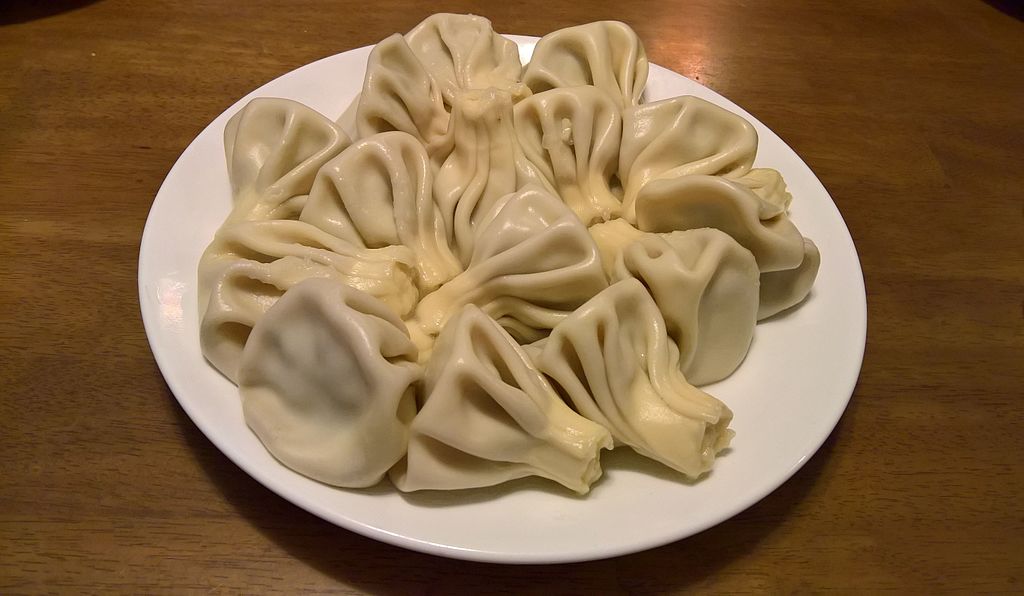 Then there were the lingering meals — approximately described as lunch, though they stretched long into the afternoon — at the farmhouse of a friend who recently resumed his family's centuries-old tradition of natural winemaking. Each bite of food coaxed new notes from the wine, complex as Georgia's polyphonic folk music. We grazed on cheeses that tasted of the sun-baked fields where the cows and sheep had grazed; salads and pâtés of nuts and vegetables sprinkled with pomegranate seeds as if to tempt Persephone; and always khachapuri, a densely cheesy genre of breads that seems far too sybaritic to be eaten at almost every meal.
You could argue that these meals stuck in my memory as much for the scenery as for the food — the rugged mountains of the Caucasus, the Italianesque vineyards of the lowlands. But one of the most remarkable meals I had in Tbilisi, the capital, took place in a setting you'd be hard-pressed to call picturesque: the basement of an aging apartment building in the city's nineteenth-century core. There, after much searching, I found Little Manila Hostel and its attached Grill & Resto, the country's first and only Filipino restaurant.
Little Manila Grill & Resto, which opened last spring, operates with some of the hush of a speakeasy. There's no sign, just a cartoon of a jeepney printed on copy paper and stuck to one of the sidewalk-level windows. When you're walking past, the jeepney is closer to your feet than to your eyes, and disorientingly similar to the tuk-tuk logo of the Thai restaurant next door; similar enough that I walked into the latter first. I stared bemused at the Buddhist icons on the walls and wondered if the Filipino hostel and restaurant I'd heard about had already gone out of business, the menu converted to a more marketable cuisine.
I was pacing the sidewalk, clutching a takeaway order of Tuk Tuk pad thai that I'd ordered in desperation, when I heard a man speaking Ilonggo into his cell phone. He was the chef, Don Palmero, ready to whip up my first Filipino meal after a week of khachapuri and to tell me about the long and winding route the Little Manila jeepney took to Tbilisi.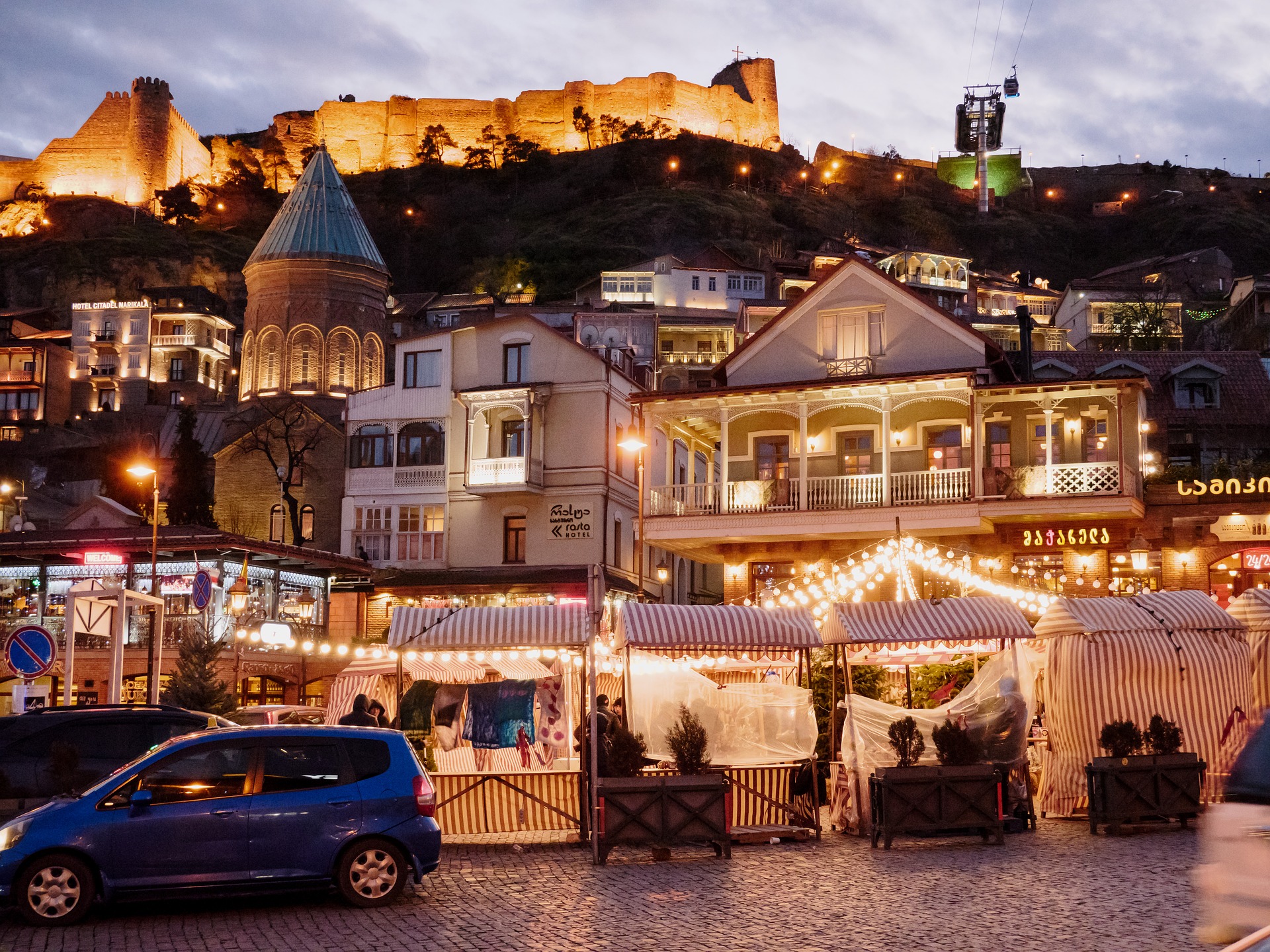 "Bread, for Filipinos, it's only for merienda. We cannot work without rice," said Don, in the cheery, mural-covered space that serves as Little Manila Hostel's dining room. The restaurant is open to the public, but it primarily serves guests of the hostel, most of whom are Overseas Filipino Workers based in Gulf Cooperation Council countries. The hostel company, which has another location in Armenia, runs tours that include samplings of local specialties like churchkhela, walnuts encased in grape candy, and mtsvadi, grilled meat skewers that echo the smoky pork barbecue of Philippine streets. When the guests return to the hostel after a long day of sightseeing, though, they often crave a taste of home.

There are no fusion inventions here, no adobo khinkali or ensaymada topped with sheep cheese. While Filipino restaurants in cities with few Filipinos tend to stick to the simple and the easily-explained — lumpia, pancit, fried rice — Little Manila anticipates the deeper, more obscure desires of the far-flung diaspora. The menu, hand-painted on the wall, reads like a homesick word association game. It starts with staple silogs , wanders towards humble tinola and bulalo and reaches as far as regional specialties like Bicol Express and the bitter papaitan of Ilocos.
But most Filipinos that come here are looking for one product: pork. They may initially be disappointed by the paper menu, which has categories for "beef" and "chicken" but none for the other white meat. This is a habit carried over from the Muslim-majority GCC countries where many Little Manila guests hold residence. (Don and Little Manila owner, Nante Marilag, also arrived in Georgia via the Gulf; they became friends while living in the same building in Dubai.) In Saudi Arabia and the United Arab Emirates, which respectively host 24 percent and 16 percent of all Filipino OFWs, eating pork is difficult at best, a deportation-worthy crime at worst.
Georgia is a majority Orthodox Christian country with no stigma against animals that do not chew the cud. Still, the waitress still lists the pork dishes quickly, under her breath, as if they might be contraband here after all. There's sisig, sinigang na baboy, lechon kawali; a hulking crispy pata served in a ring of crudités like the centerpiece of a medieval feast. A mother-daughter pair, sitting behind me, listened patiently to the pork options and then ordered all of them. They were Filipinos from strictly anti-pork Saudi Arabia, the waitress confided as they tore into the pork knuckle, visiting Little Manila for the second time in as many days.

I ordered the sisig, which the waitress said was the most popular dish — about as dense a porcine experience as you can fit on one plate. It came draped demurely with a veil of fried egg, zigzagged with mayonnaise like a brown paper package tied up with strings. And indeed, it ended up being one of my favorite things.
"Pork in Georgia is very, very delicious," Don told me, and I knew it. I'd eaten Georgian pork mingling meekly with beef in khinkali, stewed with potatoes in goulash-like souzi, grilled with no adornment but salt and a sauce of sour plums. I did not know, however, how delicious it could be in Filipino food, so much of which is designed to coax out the diversity of flavors and textures that a pig can contain in its body.
There are few dishes that showcase this virtuosity better than sisig, traditionally punctuated with the cartilaginous bits that surround a pig's skull and smoothed out with the brain inside. At Little Manila, the sisig leans towards lean meat rather than organs and skin, the better to highlight the yielding tenderness and free-range flavor of the local pork. The crunch of onions replaces cartilage, while chicken liver provides the creamy body and ferric depth of brain. Each bite contains the sweet-savory suspension of spices, titrated to maximum pungency, that could only belong to Filipino food.
"My aim here is really to bring the Filipino taste to Georgia," said Don, "to share Filipino taste with local people and other nationalities." That's no easy task in Tbilisi. Georgia has few Asian grocery stores and none specializing in Filipino ingredients, so Don has no access to the shelf-stable exports and instant mixes that prop up Filipino kitchens across the global diaspora. Some of the supermarkets carry canned coconut milk, but it's so expensive that Don no longer serves Bicol Express.
Don has taken on the project of rebuilding "Filipino taste" from the ground up, layering local ingredients until they alchemize into the flavors of home. In the process, he has accidentally — and inevitably — stumbled into some of the techniques of his adopted region's cuisine. His sinigang, soured with lemon, bears a resemblance to chikhirtma, a Georgian lemon-chicken soup. His papaitan gets its bitter kick from dried lemon peel, a common ingredient in nearby Iran.
Next, he wants to standardize his recipes with precise measurements, a process he learned from the high-end restaurants where he worked in Korea and Dubai, and to elevate the restaurant's atmosphere and presentation. "Maybe, after five years, some Georgian people will come and eat here in our restaurant," he said. "Maybe, in God's grace."
His ambition highlights Little Manila's idiosyncratic place in the global Filipino diaspora. As it currently operates, the restaurant isn't designed to introduce locals to Filipino cuisine, nor does it primarily serve Filipinos who live in Georgia. (There aren't many of those — about 25 households, according to the Consulate General of the Philippines in Tbilisi —[1] in part because the volatile Georgian lari offers few incentives for economic migrants.) Its clientele are almost exclusively Filipino tourists. Little Manila only exists in Tbilisi because of a coalescence of bureaucratic and geographic coincidences, a product of the precarious, loophole-bound nature of OFW life.

Compared with Western countries, Georgia's borders are relatively open to Filipino passport holders; those with residence visas for GCC countries receive a visa on arrival, while those without can get an e-visa online for just $20 (no sponsors or interviews required). There are cheap and frequent flights to Tbilisi from many GCC countries, where job-seeking Filipinos often operate on visitor visas that require leaving the country every 30 to 90 days. Georgia is also one of the few countries in the region that has a Christian majority, like the Philippines. OFWs are savvy about the travel options that their documents allow, Don told me. "When we're abroad, some Filipinos are working for a long time," he said. "Sometimes they're trying to change the weather, change their mood. The answer is: travel anywhere they can easily get a visa."
Don is enjoying the change in weather that came with accepting this Tbilisi gig, a favor to his friend Nante. A longtime mountain biker, he finds Georgia's green, spring-studded trails a revelation after years pedaling through the deserts around Dubai. When I met him in August, he had been in the country for three months and still wore the rose-tinted glasses of a newcomer. "You don't have anything bad to say about this country," he said. "Life here is very, very light. You can live happily here with peace of mind."
But he has a zen attitude towards the fate of Little Manila Grill & Resto. "If we have a future here, then we'll do it here," he said. "If not, we'll return back." Return where? That's up in the air. Don listed Iloilo, Japan or Switzerland as his next possible stops; Nante will continue hopping between Armenia, Manila, Dubai and Abu Dhabi whether or not Little Manila succeeds in Tbilisi.
It's all par for the course for two longtime members of the OFW community, a tribe trained to see the opportunities behind borders like a kind of X-ray vision. One thing's for sure: wherever he goes, Don will find a way to cook Filipino food, even when surrounded by culinary traditions as rich and unique as Georgia's. "We have Filipino food since we are birthed," he explained. "We have to have it. It's just our nature." 
Little Manila Grill & Resto is located at 7 Ivane Machabeli St, Tbilisi 0105, Georgia.
+995 599 40 79 32
This article received a Plaridel Award for Best Food Story from the Philippine American Press Club. A version of it appeared in Positively Filipino Magazine. 

The Global Carinderia is an independently-funded project. If you value this platform, please consider donating at https://www.gofundme.com/f/global-carinderia.
Add a comment