How Jeepney Is Taking Over Anchorage
At the Alaska State Fair in Palmer, wafting between the American summer scents of kettle corn and funnel cake, there's a note that carries memories of festivals in another place: Filipino barbecue, soy sauce and banana ketchup merging to caramel on the grill.
I track the scent to a lime green trailer on the fringes of the fair. The name on the side says "Jeepney," and like a jeepney it has protuberant hood ornaments that light up in concert with the Ferris wheel and the Tilt-O-Whirl. Inside, co-owner Donna Manalo, her 9-year-old son Sam, and two employees turn out orders of barbecue, lumpia and pancit for a line of fairgoers. Business is good, Donna tells me as she hands me a skewer of pork barbecue nearly a foot long. It's easily twice the size of the barbecue sticks at rural peryas, juicier and more yielding. A nub of melting fat waits at the end like the coda of a song.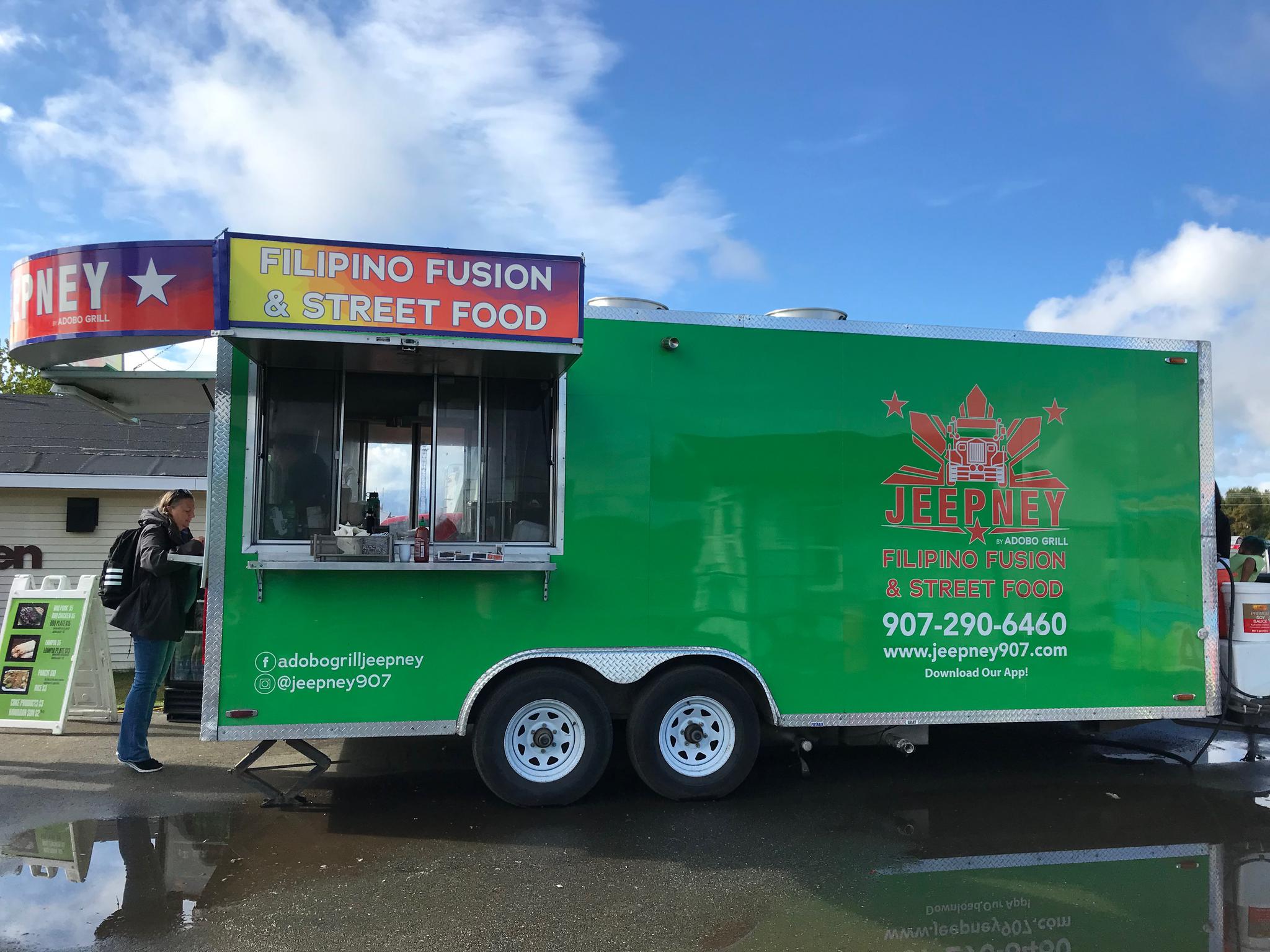 Over the past two years of the pandemic, business has been unusually good for the Anchorage-based Filipino and Hawaiian restaurant. The state fair trailer is a temporary outpost of Jeepney's expanding empire, which now includes two food trucks, two sit-down restaurants and a food court kiosk in Joint Base Elmendorf-Richards, a military facility that serves the U.S. Air Force and Army. The growing business is meeting a need in Alaska's biggest city, where Filipinos are the largest minority group (about 10,000 strong) but only have a handful of restaurants to call their own. "It's been a blessing," Donna says.
Donna and her husband and co-owner Jerry Manalo are both Filipino but grew up in other former American colonies. She was born in Hawaii, he in Guam, and they met online in the early 2000s, when Jerry was living in Alaska. They married in 2007, settled in Anchorage and opened their first business together, a turo-turo called Shepherd's Asian Bistro & Grill, in 2009. The Manalos sold Shepherd's a few years later, but by 2014 "We decided to go back to doing what we love, which was cooking and selling Filipino food," Donna says. Jeepney began that year as a food truck, and in 2016 they added a trailer to the fleet.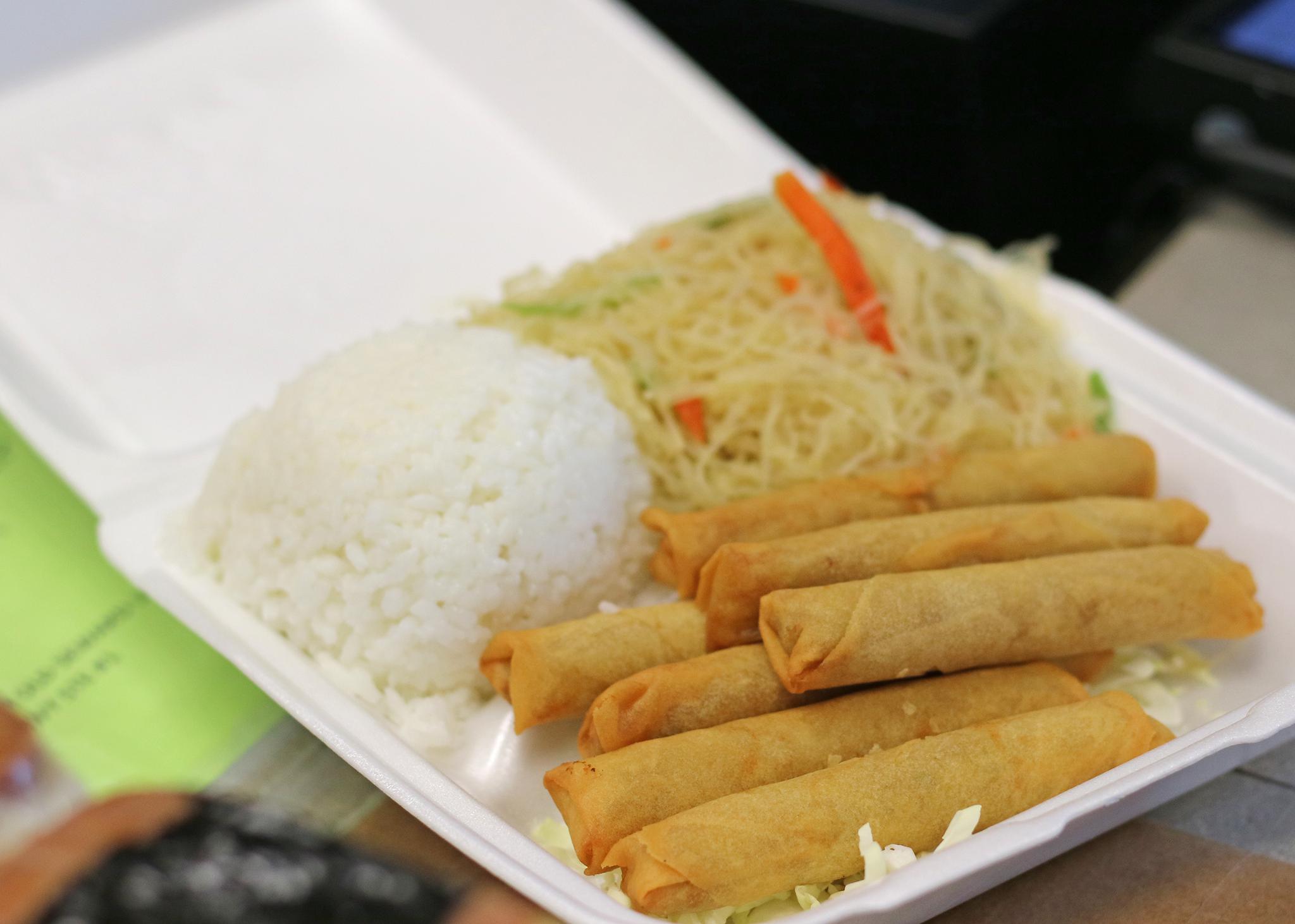 Things took off just as most of the world was shutting down in 2020. The first sit-down Jeepney opened in the first summer of the pandemic. "All the businesses were closing, but we decided to open, which was really crazy," Donna says. A few months later, they were invited to join the food court at JBER, and in early 2021 they bought the former home of a restaurant that didn't make it through the pandemic.
"We have family that's been able to help us out during the pandemic," Donna says. "Even though we couldn't find employees, they put in their time to help us. Just having that network of family that can help."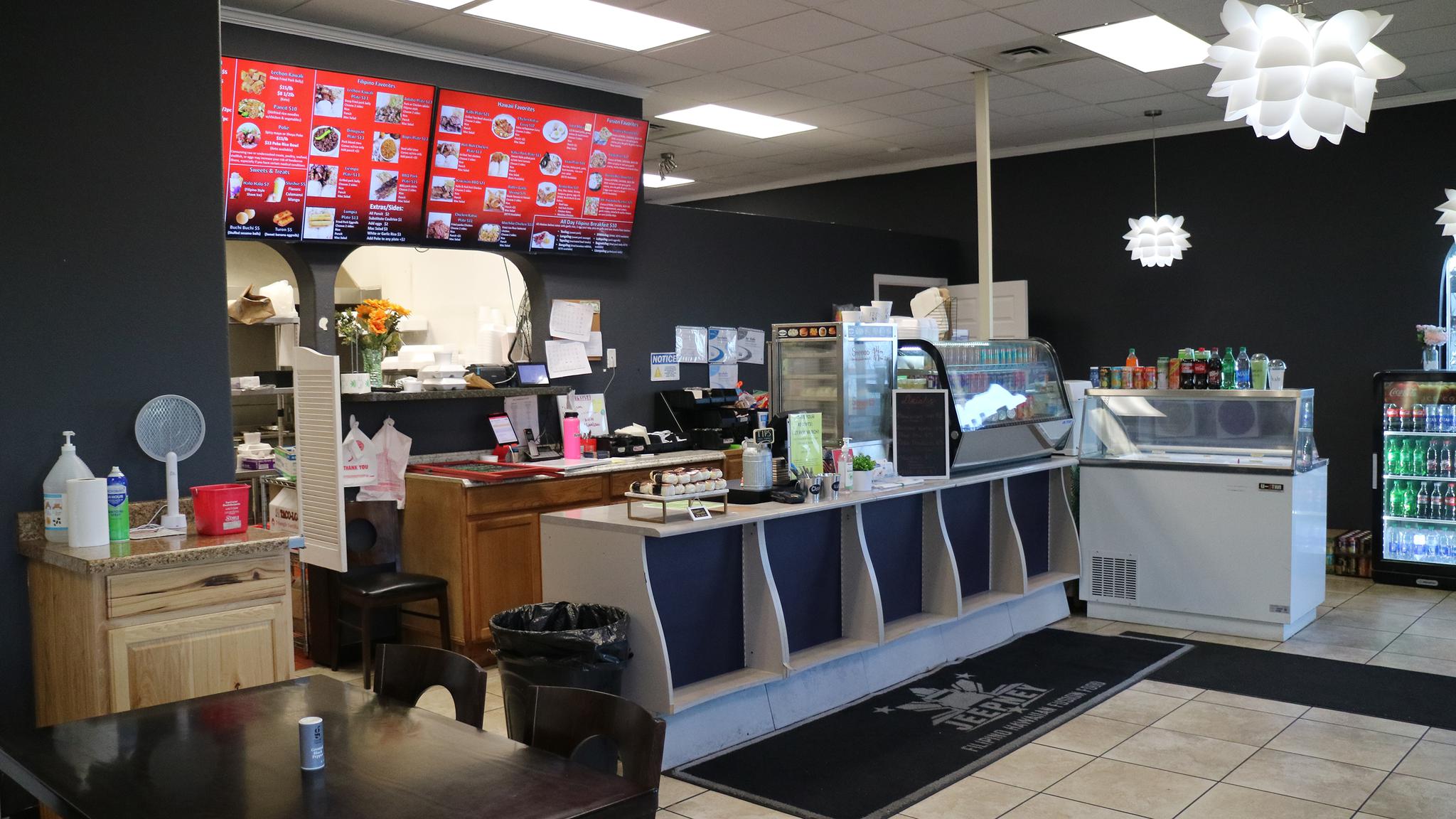 I saw the network at work on my visit to Jeepney's first brick and mortar in Anchorage. Like the food truck, the restaurant was staffed mostly by Donna's family, including her brother and co-owner Jeff Bumagat-Hidalgo, a bodybuilder and Instagrammer rarely seen without a string of Hawaiian koa beads. He took the lid off a DoorDash order of garlic shrimp so I could admire its butter-glossed beauty before the Dasher took it out the door. "This here is one of our most popular items," he told me, with the same flair he has on his popular Reels.
The Hawaiian menu is especially popular with non-Filipino customers, who come for classic plate lunch combos like kalua pork, mochiko chicken and pineapple-glazed huli huli chicken with mayo-slicked mac salad. Many of these orders come from Anchorage's large Pacific Islander population — over 7,000 people, according to AAPI Data. Few leave without buying a few of the Spam musubi stacked like bricks by the register.
But Jeepney's street food offerings bring the Filipino customers to the door. The foot-long pork barbecue that lured me at the fair is just the beginning. The menu also includes obscure delicacies like bituka (pork intestines), balat (pork skin) and tenga (pork ears), as well as Chinese Filipino favorites like siopao and siomai.
Most overseas Filipinos know how to make home-cooked standards like adobo and pancit, Donna explains, but it's harder to slake the particular craving for the after-school snacks and late-night bites one finds along the byways of any Filipino city. "It's hard to find it here," she says. "No one knows how to prepare street food, so we make it for them."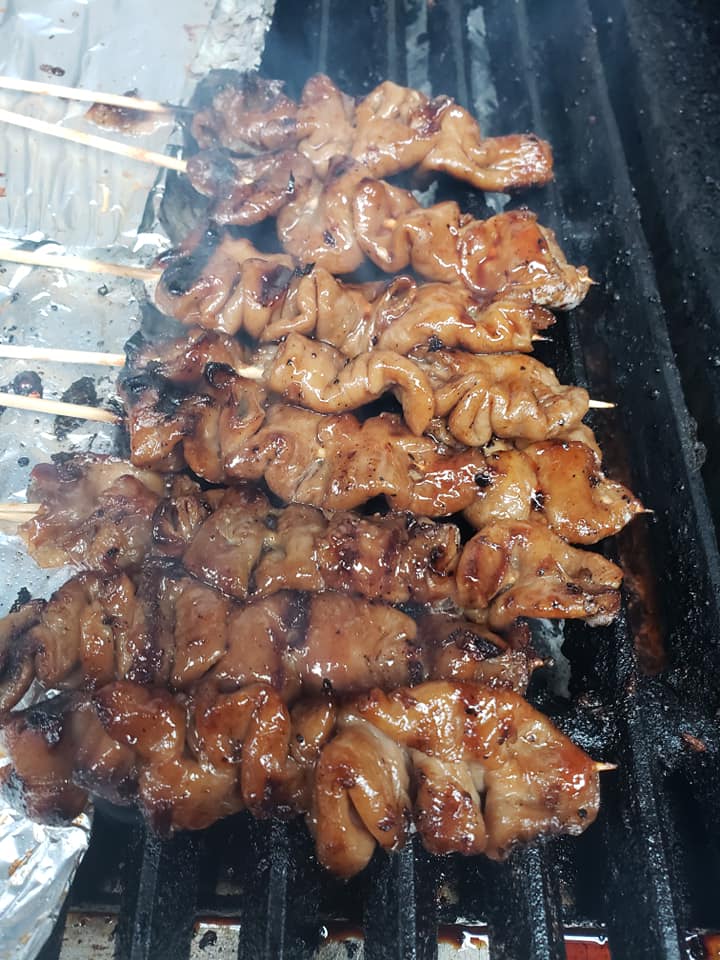 I'm familiar with this specific kind of nostalgia. I know it from my mother's longing for fish balls robed in sweet-and-sour sauce, or from my flashbacks of late-night inihaw every time I smell charcoal smoke in the evening. Jeepney's skewered bituka and tenga came closer to replicating those memories than any restaurant in America.
If its expansion continues, Jeepney may soon meet the street food needs of overseas Filipinos well beyond Anchorage. "We'd love to bring it down to the lower 48, or maybe Hawaii or Guam," Donna says. "There's a lot of Filipino food in Hawaii, but what they don't offer is the kind of fusion and street food that we offer here." She hopes that Jeepney's presence at JBER may lead to more locations at military bases elsewhere in the country.
No matter how far it spreads, Jeepney is likely to remain a family affair, the kind where kids do their homework at the tables and the staff call each other "ate" and "kuya" rather than by name. "It will be family or friends running it in Hawaii or Guam or wherever we go," Donna says. "They need to have that heart and soul for what we are, for what Jeepney is."
Jeepney Filipino Hawaiian Fusion Food is located at 9191 Old Seward Highway and 2477 Arctic Boulevard in Anchorage, Alaska.
A version of this article appeared in ABS-CBN News. 
Add a comment