Cavite Tamales from Argentina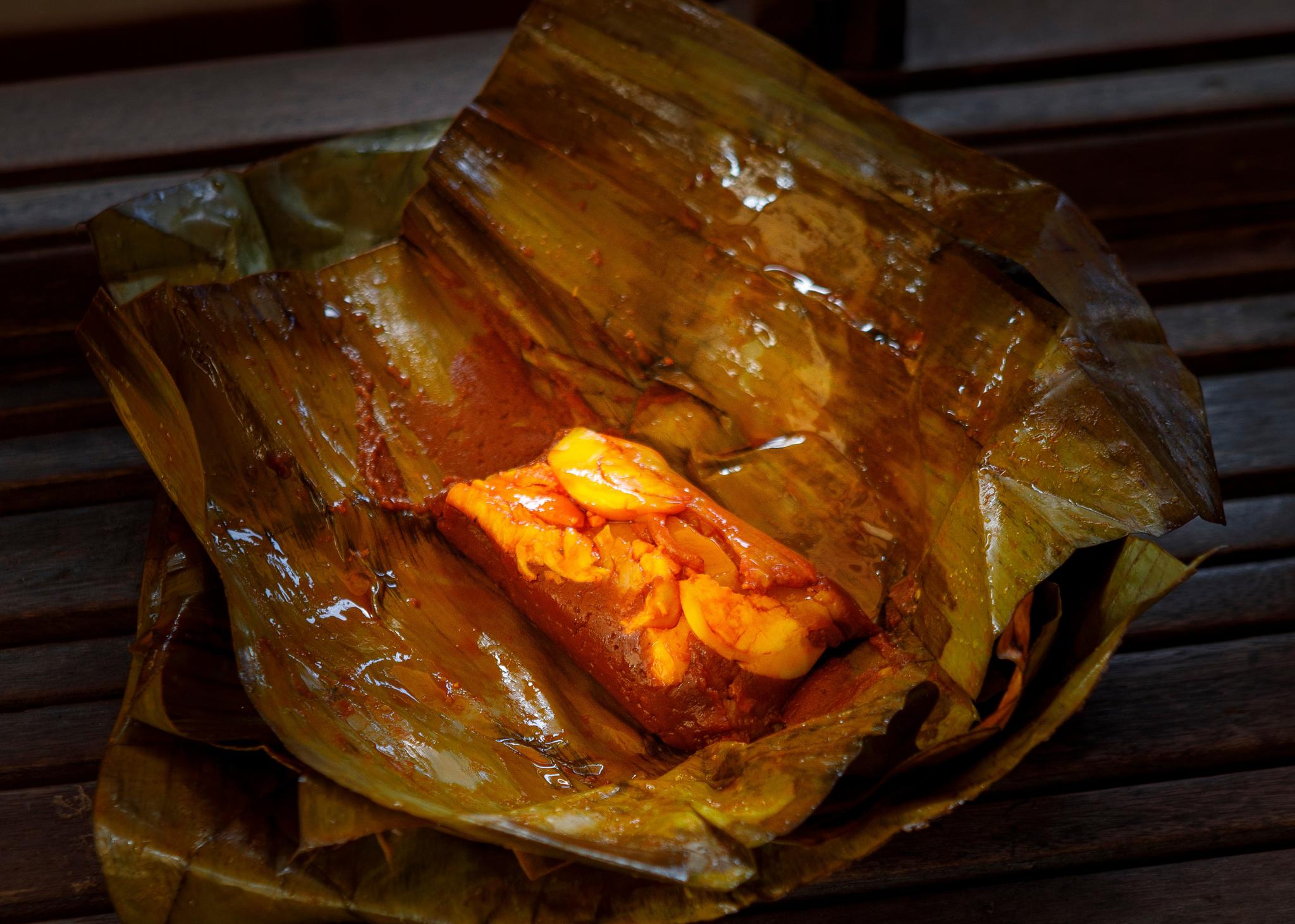 Apu Nena, Christina Sunae's second restaurant in Buenos Aires, Argentina, centers its menu on tapas asiáticas: small plates inspired by Filipino pulutan (finger food). The accessible tapas format, familiar in Argentina and other Spanish-speaking countries, allows Sunae to introduce Filipino dishes that are rarely found on restaurant menus even within the Philippines, such as this regional variation on tamales. The comforting, all-in-one meal has proved especially popular for takeout during Buenos Aires' strict coronavirus lockdown. "It sells out almost every night," says Sunae. "They're loving it." — Jennifer Fergesen
Note: This recipe will be available in Christina Sunae's upcoming cookbook, Kusinera Filipina, which will be published in Argentina by Catapulta Editores.
Ingredients
Makes 4 tamales
For the sauce:
● 1/4 cup olive oil
● 1 1/2 tablespoons annatto (atsuete) seeds
● 2/3 cup onion, finely chopped
● 2 cloves of garlic, finely chopped
● 1 cup peanut butter
● 1 tablespoon sugar
● Ground chili, to taste
● Salt, to taste
For the filling:
● 2 longganisa sausages
● 1/4 lb pancetta or bacon
● 2 eggs, hard-boiled and cut lengthwise
For the dough:
● 1 tablespoon olive oil
● 2/3 cup onion, chopped
● 1 clove of garlic, chopped
● 7 fluid oz chicken broth
● 7 fluid oz coconut milk
● 1 1/3 cup rice flour
● Salt, to taste
For wrapping:
● 8 prepared banana leaves
● Kitchen string
Directions
Sauce: To make annatto oil, combine annatto seeds and olive oil in a saucepan and bring heat to medium. When oil begins to bubble around the seeds, turn off the heat and allow to soak for 2 minutes. Strain out seeds.
Bring the strained annatto oil back to medium heat and add onion and garlic. Cook until onions are translucent. Remove from heat.
In a bowl, combine peanut butter, sugar, ground chili, salt, and cooked onion and garlic with annatto oil. Stir until well combined. Set aside.
Filling: Place the longganisa in a pan with 2 tsp of water. Warm on medium heat until the water evaporates, then cook until the sausages are brown and caramelized on the outside. Cut in slices and set aside.
In the same pan, cook the pancetta or bacon until it is brown and crisp. Set aside.
Dough: Heat 1 tablespoon olive oil in a heavy saucepan and add onion and garlic. Cook until onion is translucent, then add broth and coconut milk.
Bring the broth and coconut milk mixture to a simmer and season with salt. Then add the rice flour gradually, mixing constantly with a wooden spoon so that the mixture does not stick to the bottom of the saucepan. Continue mixing until the dough is cooked. (Test the dough by pinching a piece between your fingers; when it is cooked, it will feel smooth instead of grainy and sticky.)
Cover the saucepan and remove from heat. When the dough has cooled enough to be manageable, remove from the pot and cover with plastic wrap.
Wrapping: You can buy banana leaves pre-prepared for tamales, or prepare your own. For the latter, wipe the leaves with a damp cloth, trim the tough vein from the edges and cut the leaves into 8 x 8 squares. Blanch the cut leaves in a steamer for 5 minutes to make them pliable.
Arrange 2 banana leaf squares on a clean surface. Add about 1/3 cup of the dough and 2 slices of longganisa, a slice of bacon, and half an egg. Pour over enough sauce to cover it fully, about the same volume as the dough. It is very important that the tamal has a lot of sauce, so don't be shy!
Close the tamale by folding the ends of the leaves over the filling. Tie with kitchen string, like a gift, and repeat until you have run out of filling or leaves. Place the tamales in a steamer and steam them on high heat for 20 minutes.
A version of this recipe appeared in Positively Filipino magazine. 
Add a comment